Algarve Apartment Aurora Mar 207 – Carvoeiro
Carvoeiro Holiday Apartment Aurora Mar 207

Algarve Apartment Aurora Mar 207 – Carvoeiro. Algarve Holiday Apartment Aurora Mar in Carvoeiro is a spacious (88m2) 2 bedroom vacation apartment located on the cosy Estrada do Farol, also called "Restaurant Street" because of the large choice of delicious restaurants, cafes, and terraces. On the edge of the heart of the cosy Carvoeiro fishing village, just a 5 minutes walk to the sandy beach in the middle of the village.
All-day sunshine on your Carvoeiro apartment balcony.
The apartment has a south-facing balcony with a nice view. Sun all day long, as well as in the communal pool at the rear of the building (only 24 units). Pets are allowed in consultation. Are your weeks already booked? Then take a look at apartment Aurora Mar 208, the adjacent corner apartment. Also nice for a wonderful long winter holiday in the Algarve, a sunny vacation, or a golfing vacation because of several very good Pestana Golf courses in the vicinity.
Google Maps Location Aurora Mar
Aurora Mar Apartment 207 Image Gallery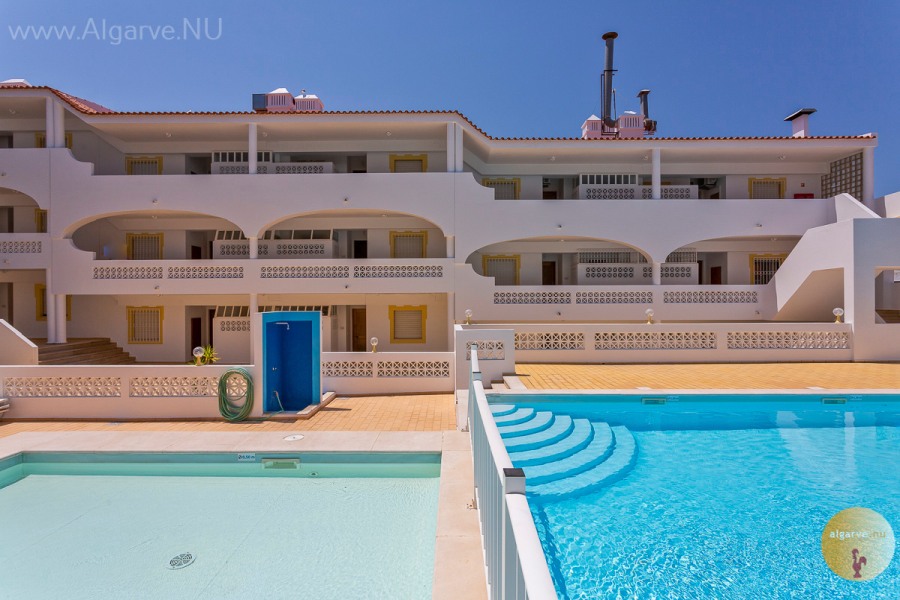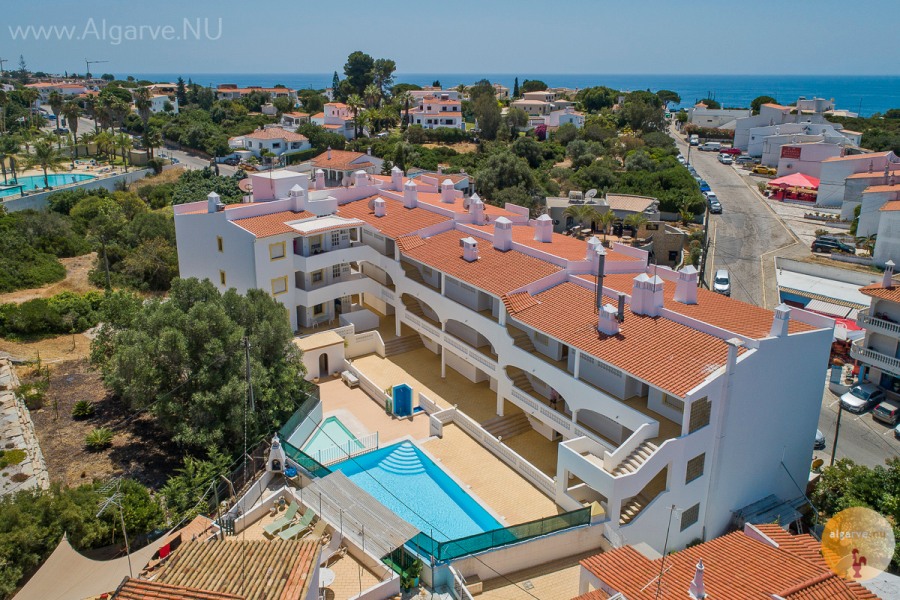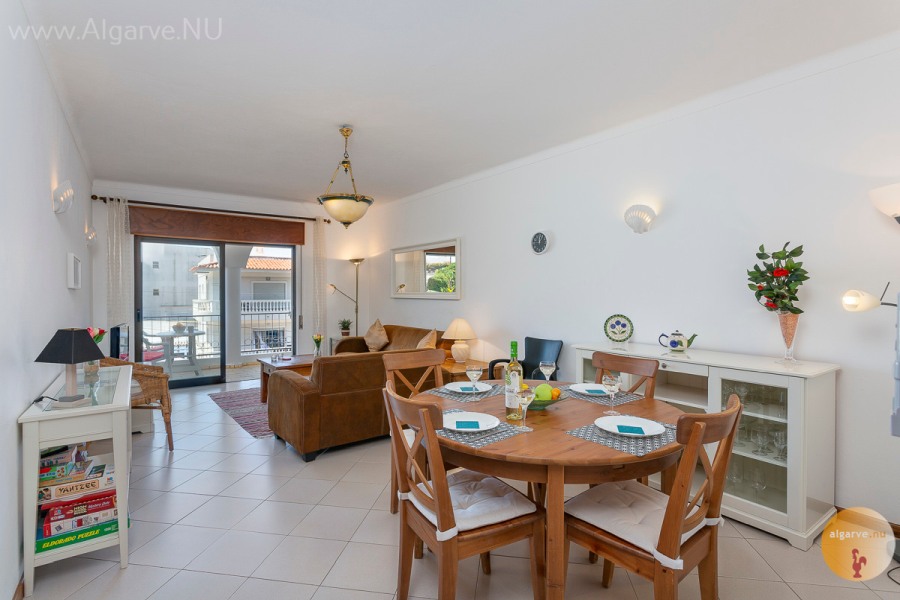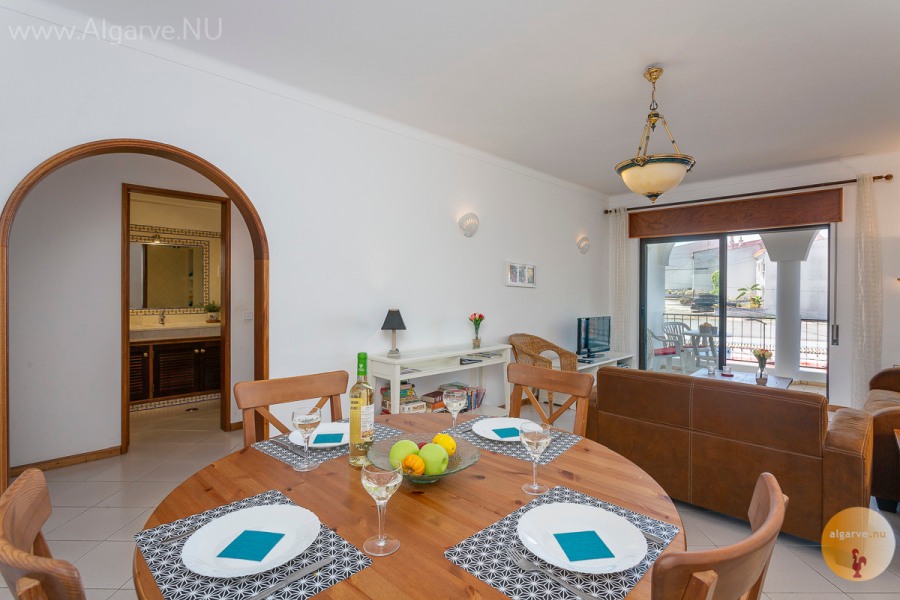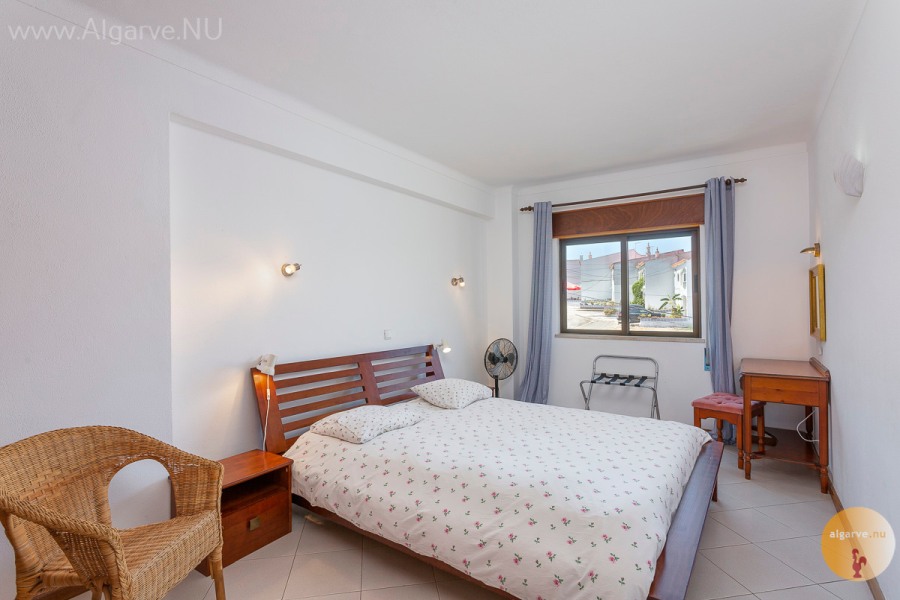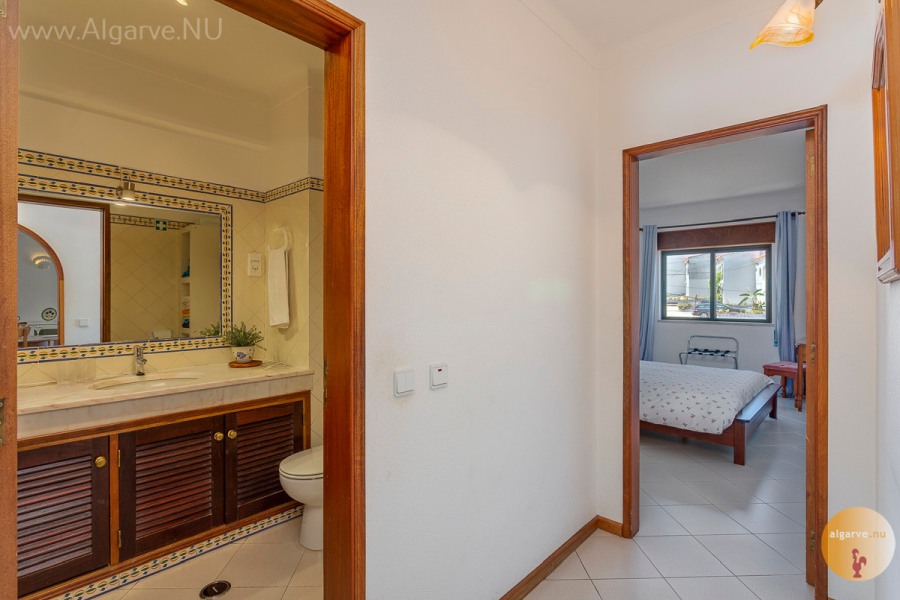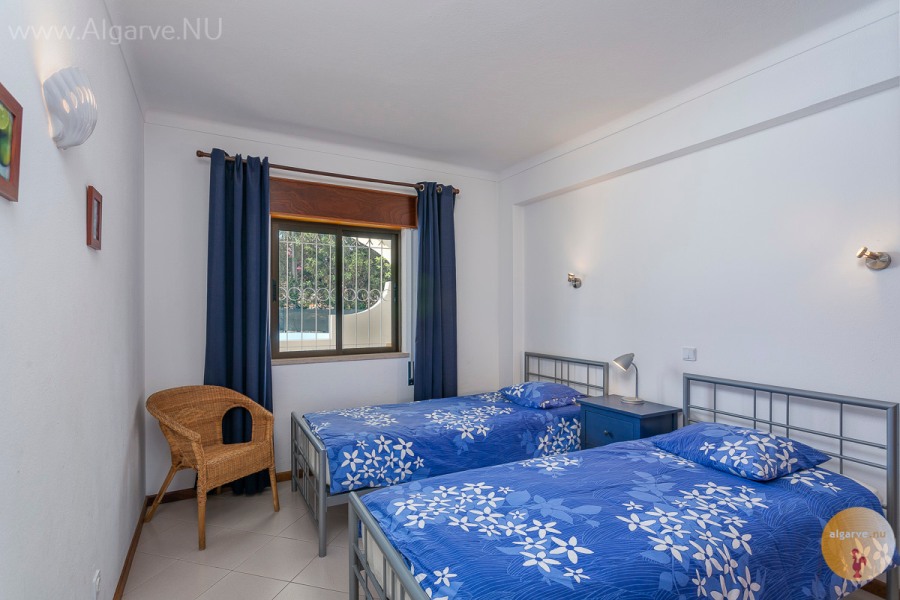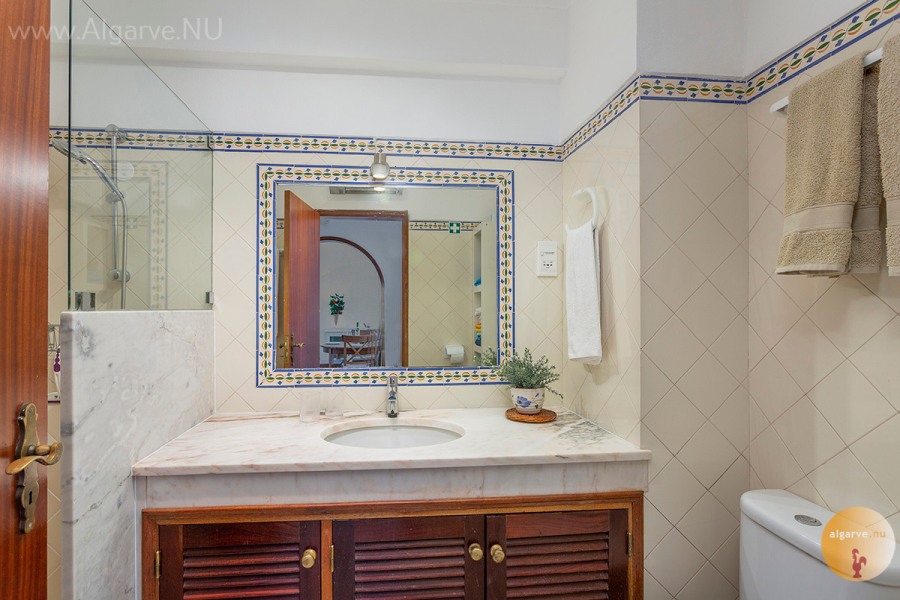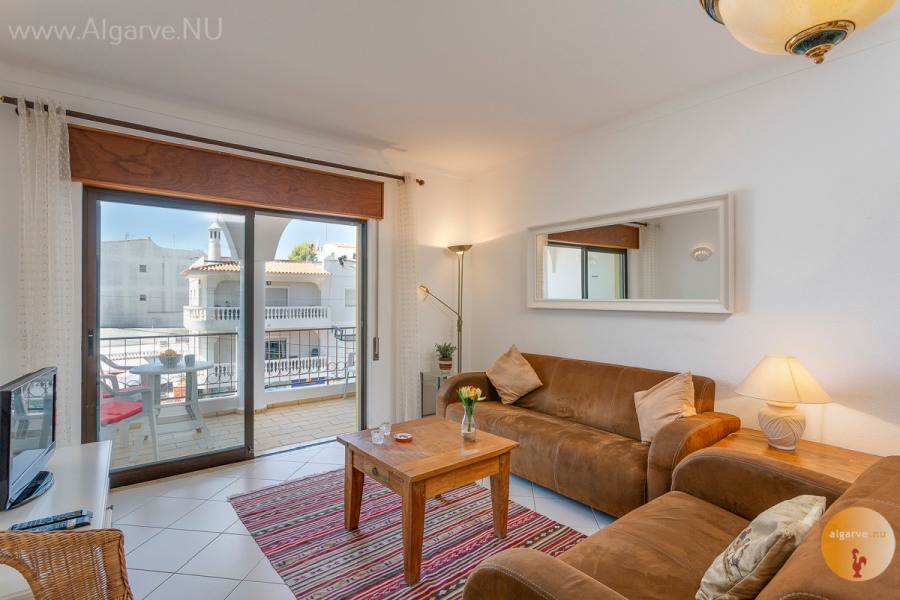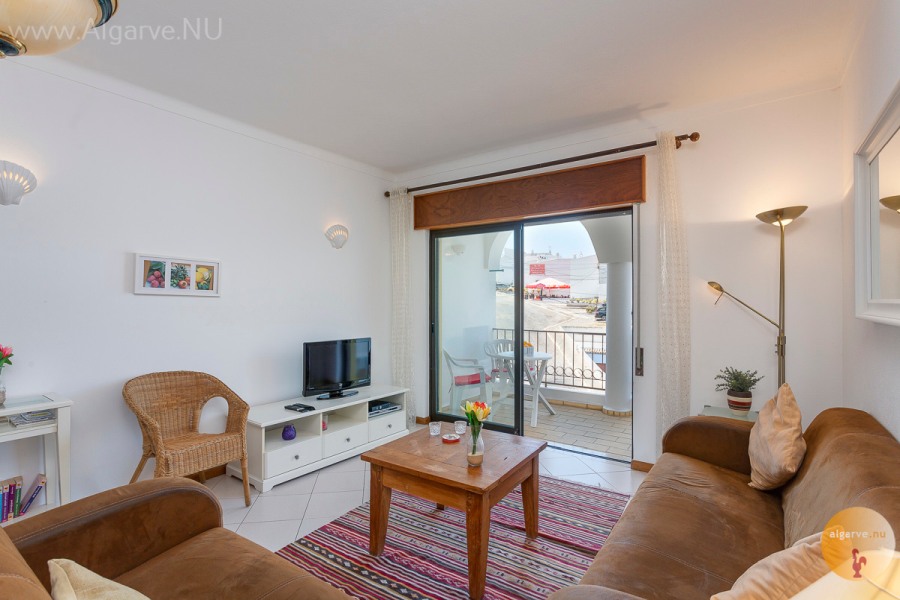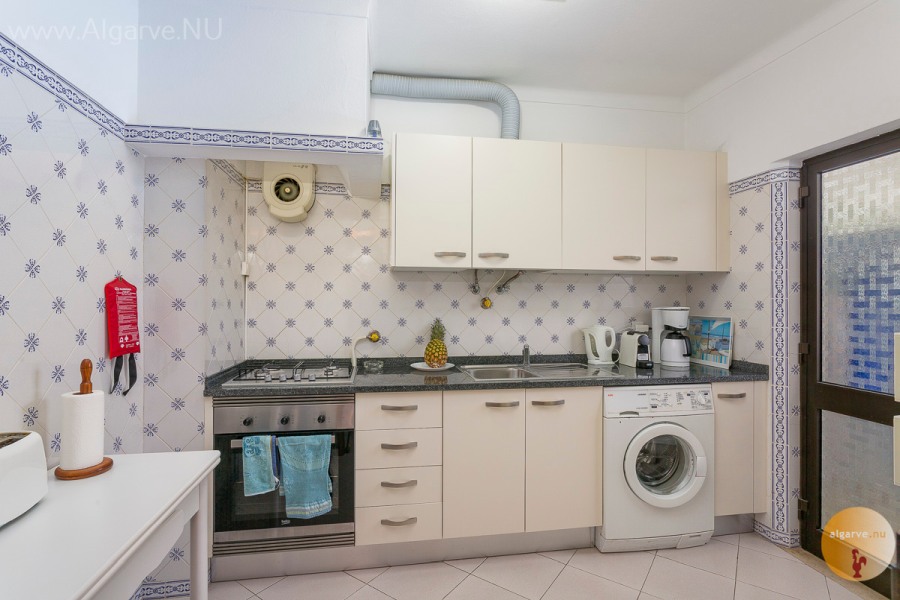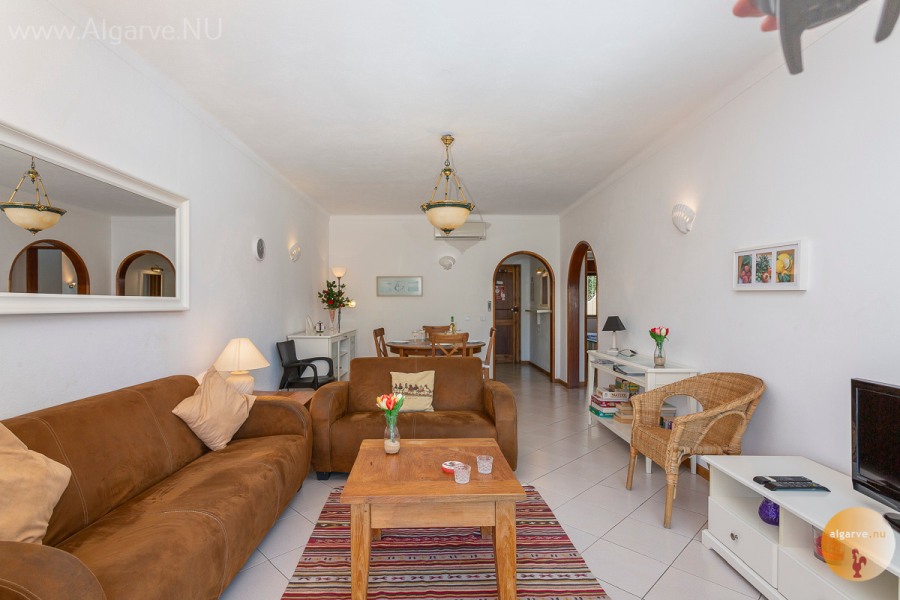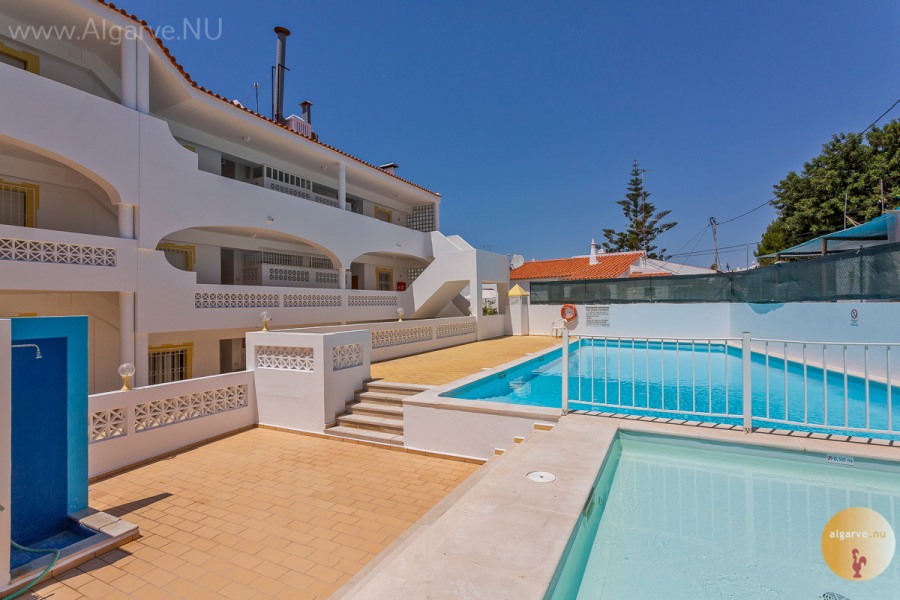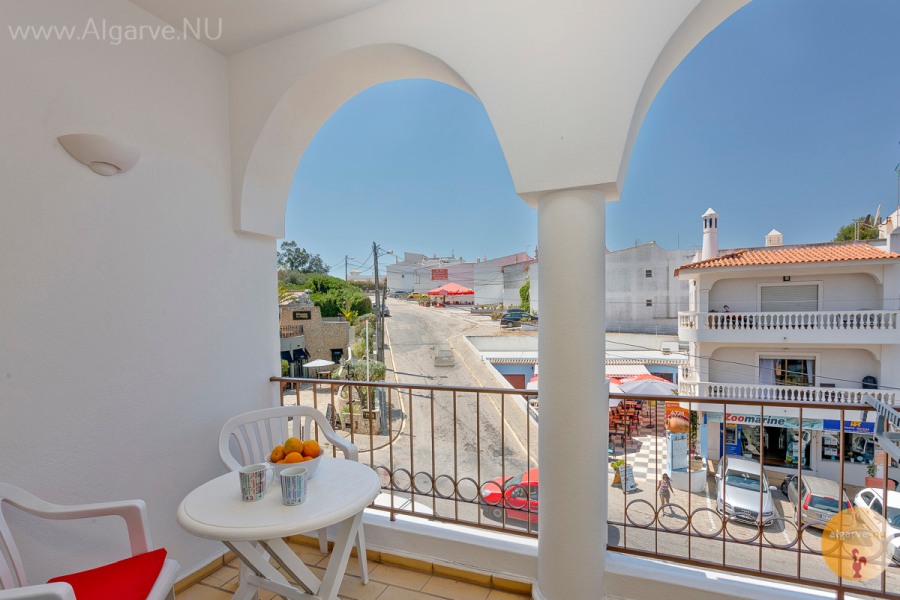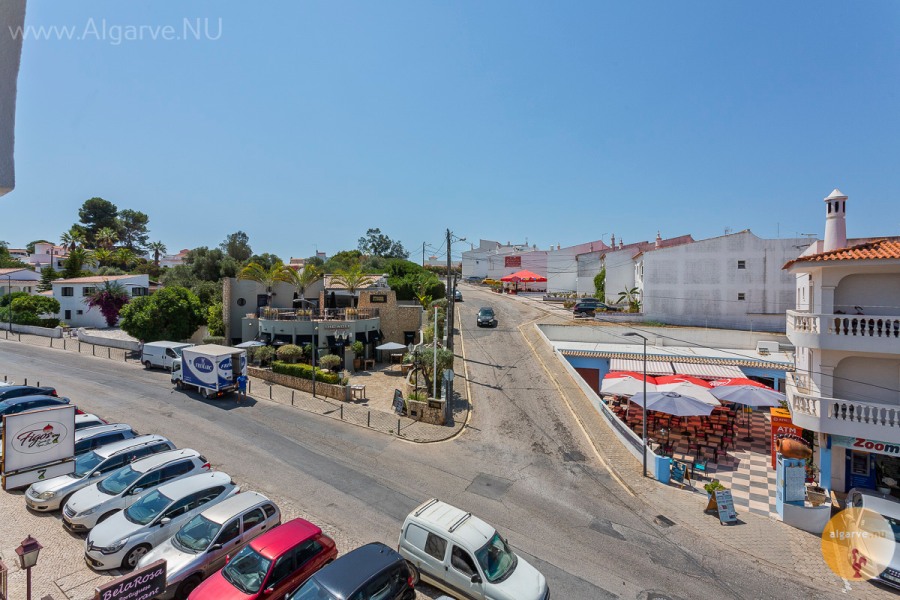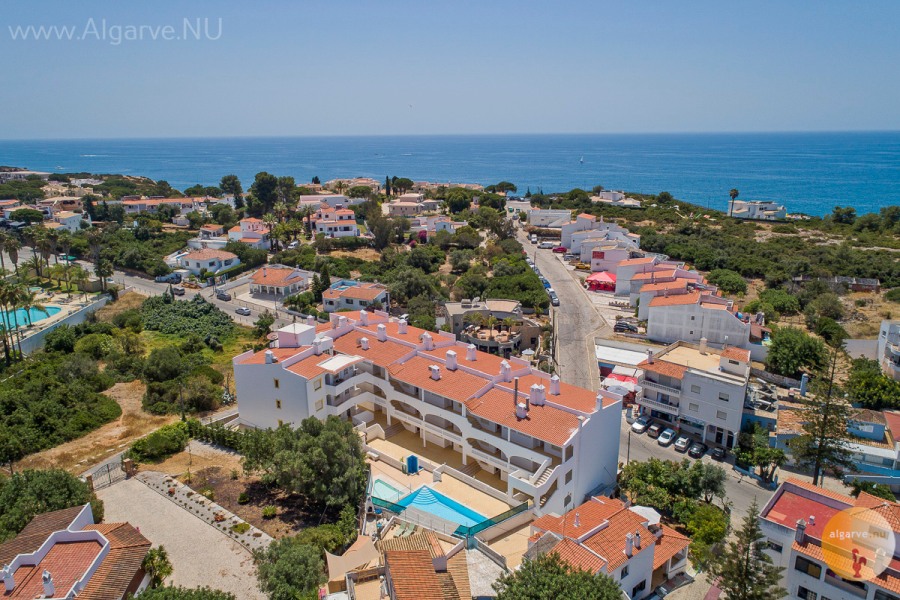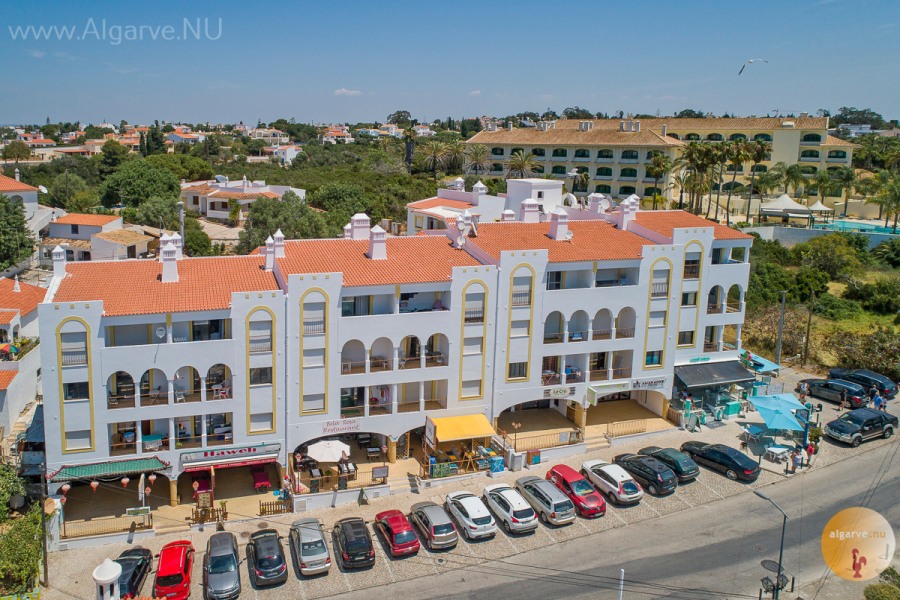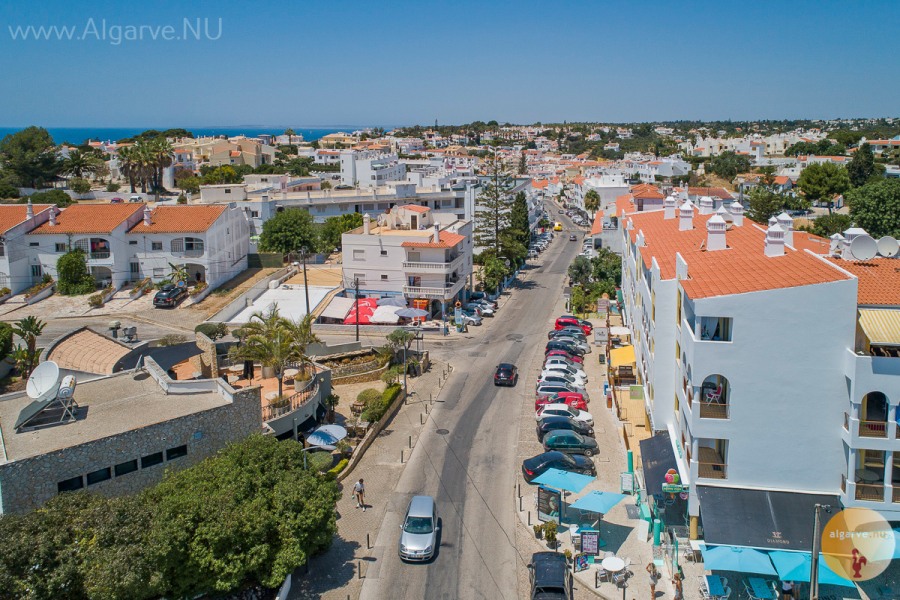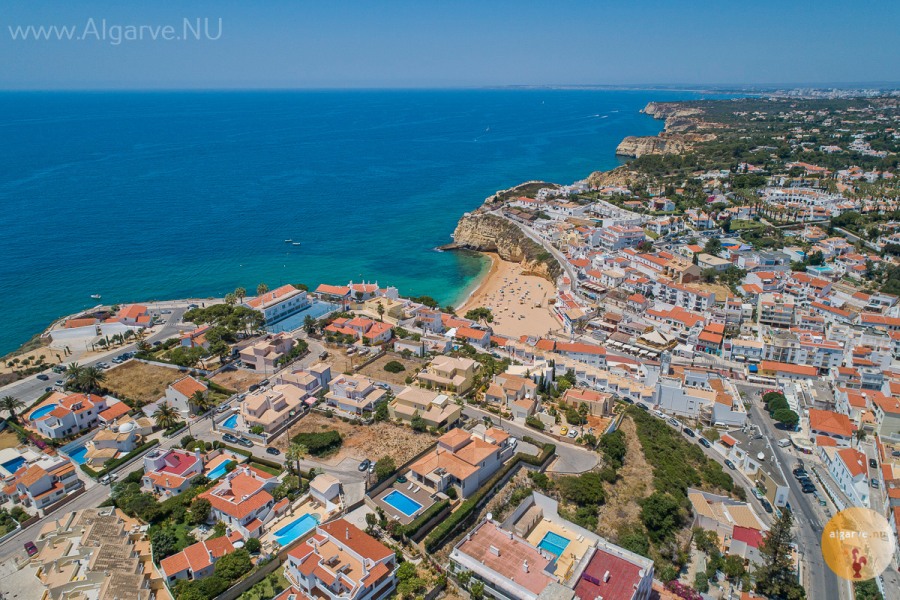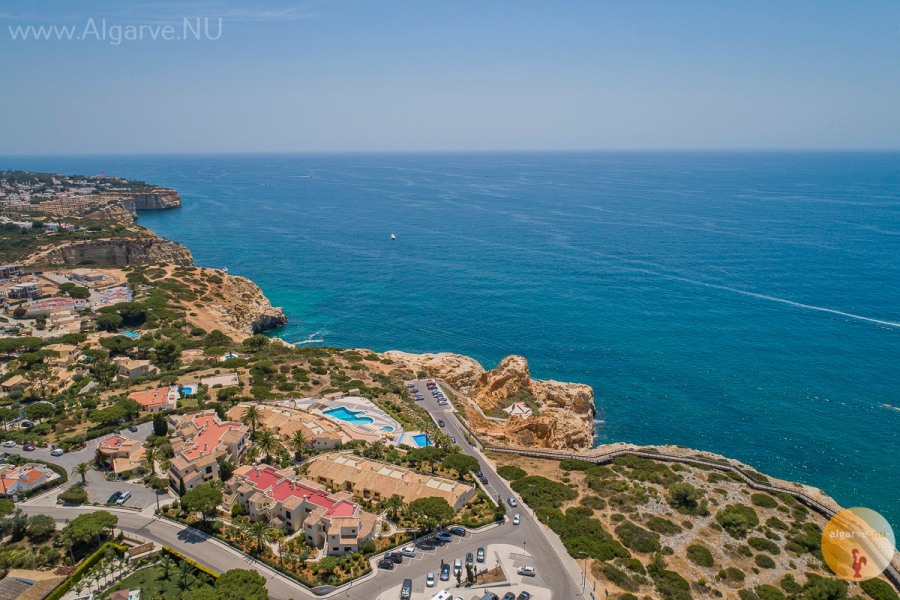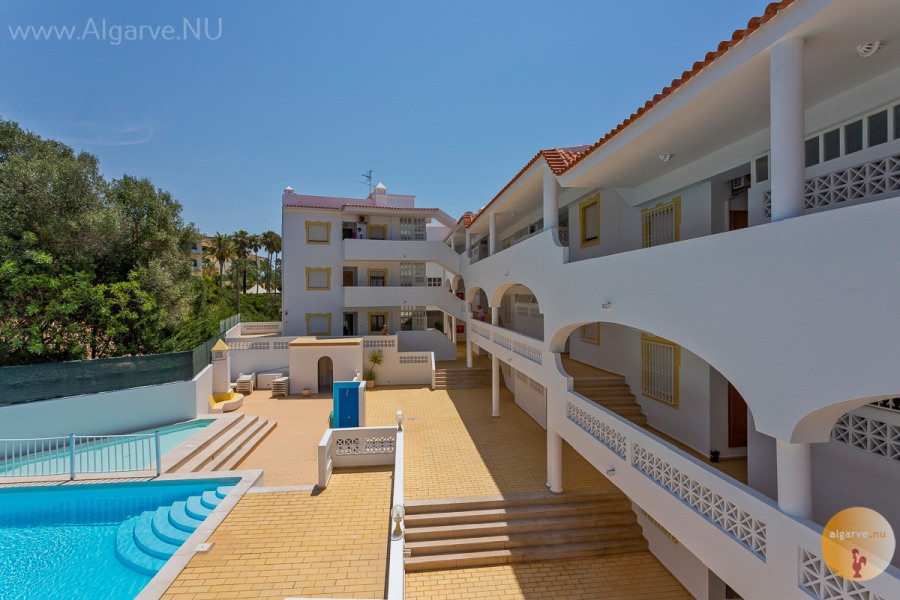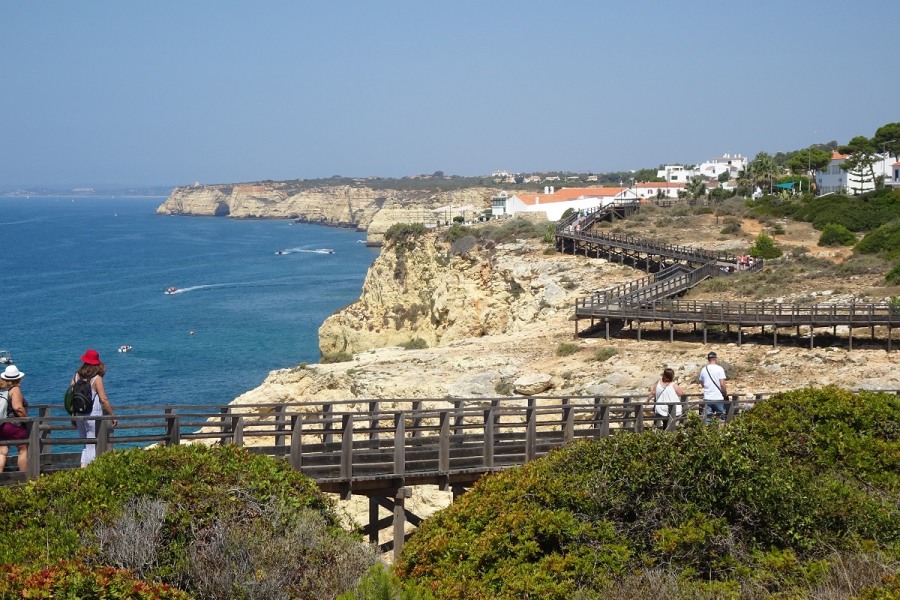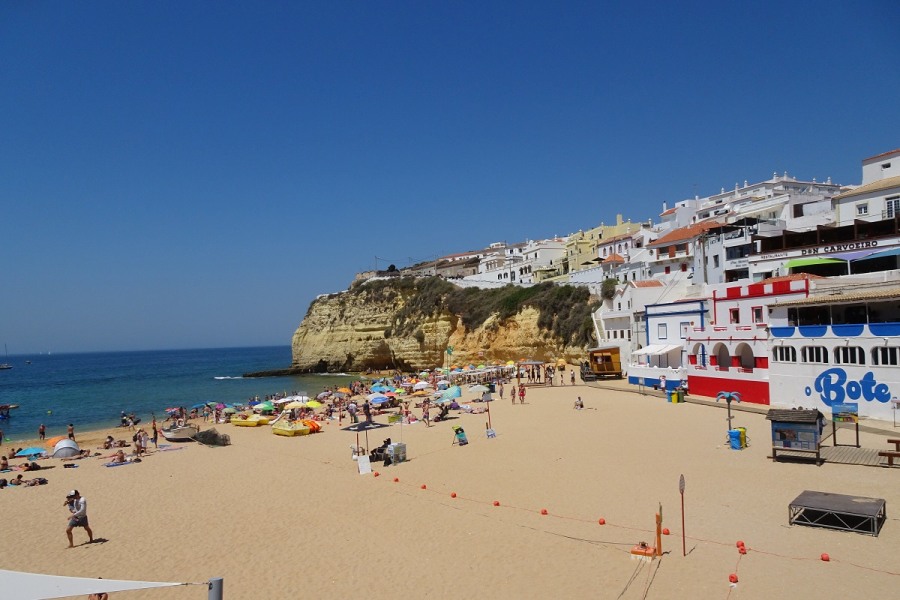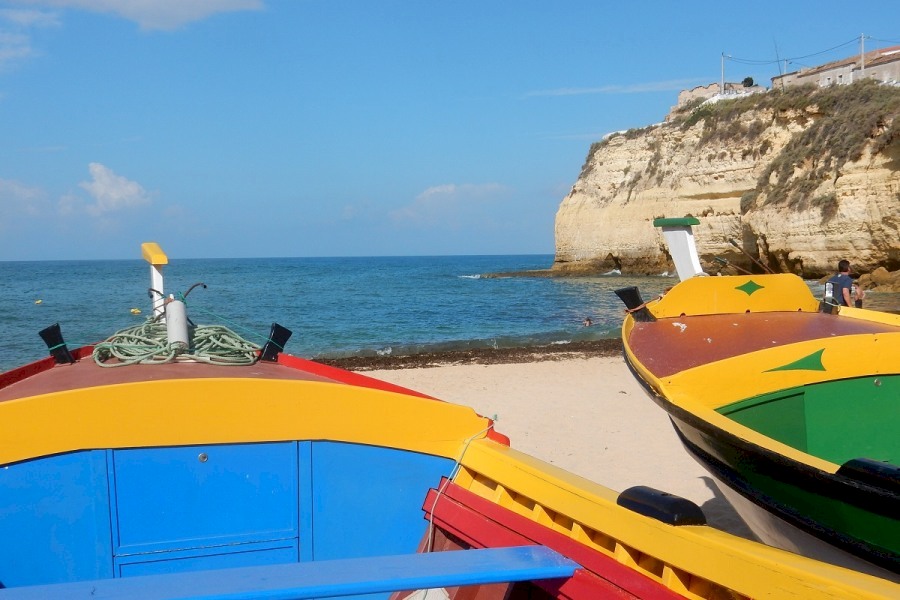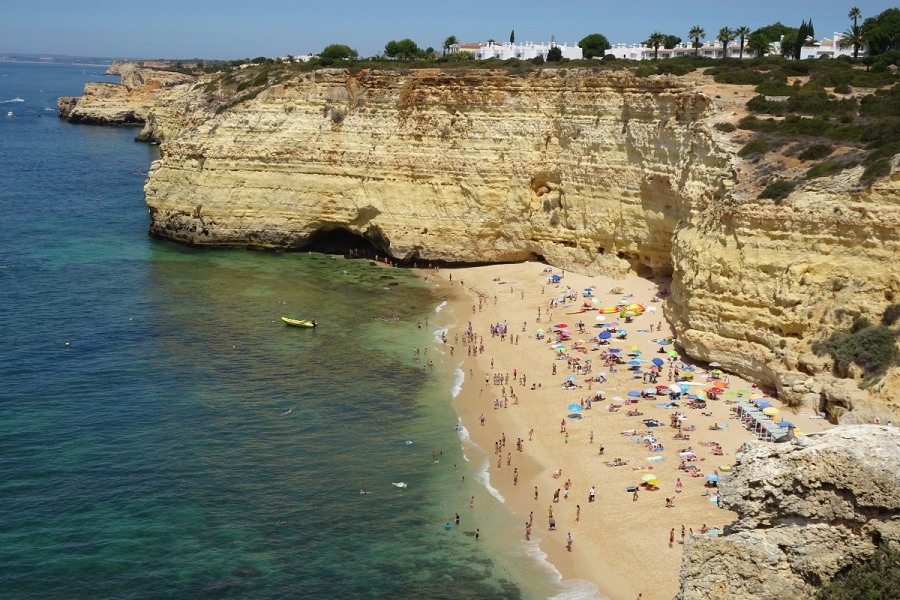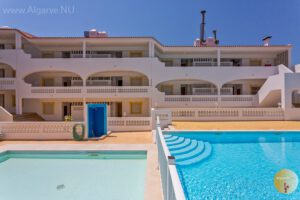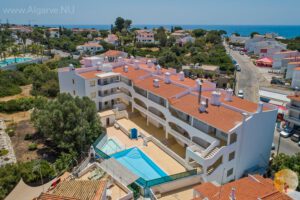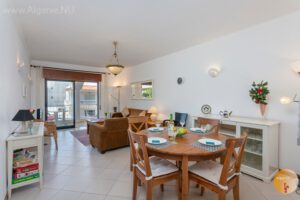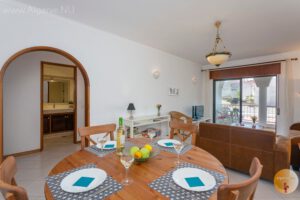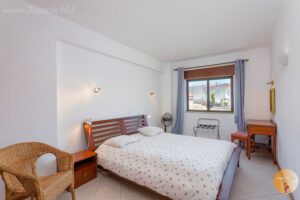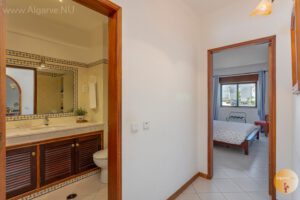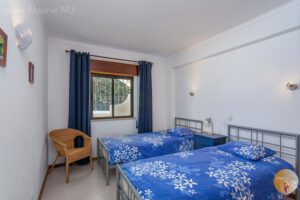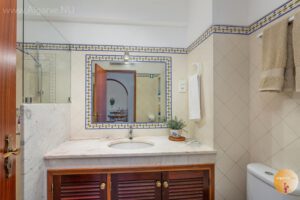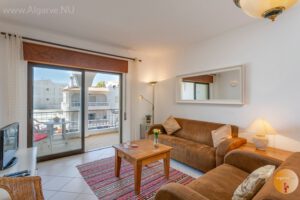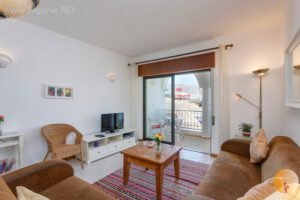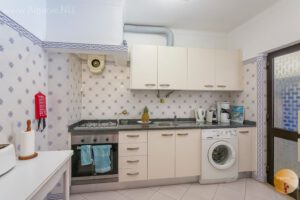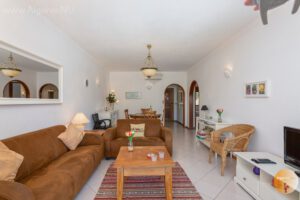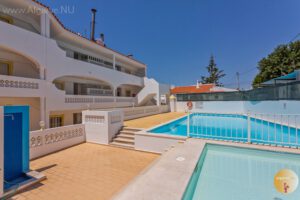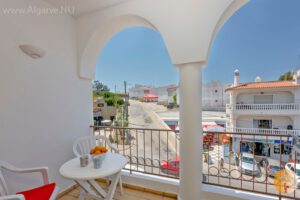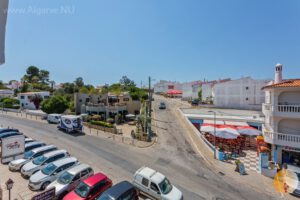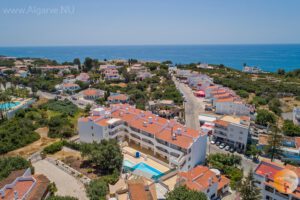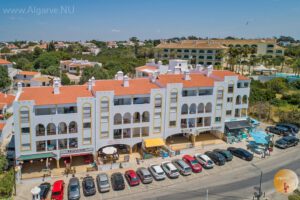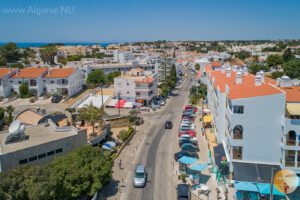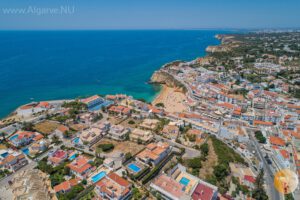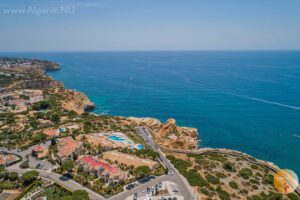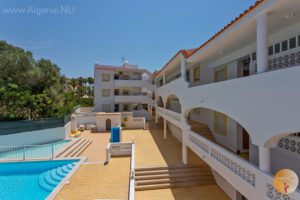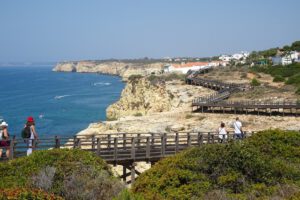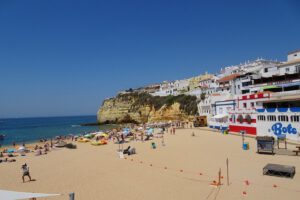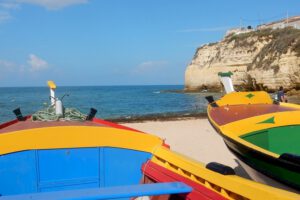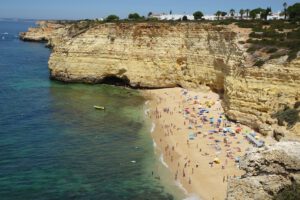 A separate children's pool
Next to the pool, there is a separate children's pool so you can keep a close watch on your children. The spacious living-dining room is equipped with air conditioning which you can also use to heat in winter. International satellite TV and free WiFi internet connection. Hostess (Joké, you may know her from KrasTravels). Bathroom with spacious walk-in shower, toilet, and sink, kitchen with appliances, storage room, hall. The master bedroom with double bed and fixed closets and both the bedrooms have space for an additional but comfortable extra bed and/or cot which is provided free of charge, as well as the high chair. Bedroom 2 has fixed closets and two single beds. The maximum number of occupants per apartment is 5, so ideal for two families going on vacation together. Pets are welcome, in principle, and ideal for long winter holidays or wintering in the Algarve, Portugal.
Algarve Apartment Aurora Mar 207 – Carvoeiro
The apartments are located on the second floor and there is an elevator. Because the building is built along an ascending street, it is necessary to take 3 small stairs in the gallery. All ingredients are present for a wonderful vacation or long winter stay in the Algarve. A rental car is not necessary but pleasant to have available.
Click here to view the Carvoeiro apartment 207 video.

These 2 Carvoeiro apartments also have their own website, please visit carvoeiroapartment.com

Although the apartment can be reached by public transport a rental car will give you more freedom to move around and explore the great Algarve. A good quote can be obtained at Faro Airport Car Rental with pick-up and return at the Faro airport.
---
4.8 out of 5 stars (based on 12 reviews)
Would you like to write your own review for Aurora Mar? Then please click here.
---
Urlaub 2023 Algarve
Ein sehr schönes Apartment viel Platz und ein schöner Pool haben uns sehr wohl gefühlt das wir noch eine Woche verlängert haben.
Für Kinder ist es sehr schön.
Wir haben auch ein Strand gefunden wo wir die Hunde mit nehmen können sehr schön.
Der Aufzug ist ok.
Sehr nette Putzfrauen und nette Vernieter.😀
Response from Algarve.nu
Vielen Dank für die gute Bewertung. Als Vermieter ist es ein schönes Gefühl zu wissen, dass man zu einem angenehmen Ferien beitragen konnte. Ich freue mich auf die nächste Buchung!
Tevredenheid!
Wij huurden met twee koppels de appartementen 207 en 208 in de periode van half maart tot half april 2023. De appartementen waren van alle gemakken voorzien. Rosa, (facilitair medewerkster) kwam twee keer per week en zorgde ook voor schoon linnengoed. Dit gaf een extra vakantiegevoel! De zon heeft alle dagen dat wij er waren uitbundig geschenen. Dit was goed te merken op het balkon en voor de temperatuur van het heerlijke zwembad.
De appartementen liggen aan een doorgaande weg, waar veel restaurants zijn. De appartementen zijn goed geisoleerd. De afstand naar het strand en naar het centrum is 600 meter. Bij vragen konden we terecht bij Joke, de beheerder van de appartementen. Bij binnenkomst lag er een persoonlijk schrijven van haar en een fles wijn. Fijn na een lange reisdag! Twijfel je om te boeken? Niet doen dit is een aanrader!
Response from Algarve.nu
Dank, Kor en Joke. Graag tot een volgende keer.
Auroro Mar 208
Super appartement , waarin niets ontbreekt! Alles aanwezig , internet , nederlandse tv zenders. wasmachine etc! Ook de kleine dingen zoals wc papier, afwasmiddel etc aanwezig.
Mooi centraal gelegen tov het dorp Carvoeiro .
Echt een aanrader .
Response from Algarve.nu
Geweldige review, Rob. Dank en graag tot een volgende keer.
Echt vakantie met alle restaurantjes
We hebben genoten van het verblijf in het mooie en ruime appartement Auroramar 208.
De hele dag de zon op het balkon.
Voor mij met een slechte knie waren de trapjes niet zo handig. Maar toch elke dag weggeweest.
Parkeren voor de deur is overdag een lot uit de loterij. Maar in de namiddag is er altijd plek.
De gezellige drukte van de straat met vele eettentjes.
Onder het appartement zit Café Fino waar je heerlijk kan ontbijten en de hamburgers zijn er ook erg lekker.
Ook dank aan Rosa voor het schoonhouden van het appartement en Joke voor alle info.
Kortom we hebben een heerlijke vakantie gehad. Ook ons hondje lag elke avond uitgeblust te slapen.
Zo fijn dat we voor volgend jaar weer geboekt hebben alleen deze keer voor Vila Arade.
Response from Algarve.nu
Dank, Amelia en Freek. Heel fijn dat jullie goed hebben gehad in Aurora Mar en heel fijn dat jullie volgens jaar weer in een appartement van ons gaan. Ik zal de complimenten aan Rosa en Joke doorgeven!
Very nice apartment
Apartment Aurora Mar is a lovely place to stay. Well furnished, everything is there for a nice vacation. Lovely south facing terrace where you can enjoy the sun all day. Walking distance to center where many restaurants are. And although the beach is not so big, you can sunbathe and take a dip in the sea.
Response from Algarve.nu
Thanks and all the best!
---
Aurora Mar rental license 17953/AL