Algarve holiday home with charging station
A holiday home in the Algarve with its own EV-charging station for your electric car. If you drive an electric car, you know very well how nice it is to have a charging station nearby. Because not all holiday homes in the Algarve have a charging station., You have to search the area where you can recharge your batteries. That could be quite some distance away.
That is not the case when you have booked your Vila Maria Algarve holiday home with a charging station in the Algarve. Since October 2023, we have had a Schneider EV charging station installed. Especially for those who drive an electric car. Complete with 5 meter fixed cable with T2 plug. Our charger is on the garage wall of holiday villa Vila Maria. Plug-in, charge, and drive, as it were. And that is so nice, because especially abroad it is sometimes a long search before you come across a charging point. And then, your charge card must also be accepted!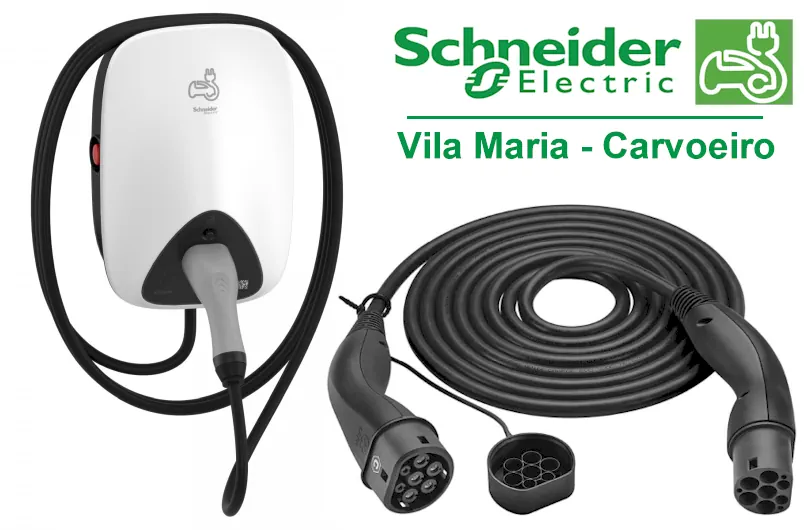 Find your charging station on the way or while in the Algarve.
Never search again because you booked a holiday home with a charging station in the Algarve. On vacation, you want to be able to fully enjoy the time you have. Relax on a terrace, take the car and leave for a fantastic beach spot in the Algarve. Or visit one of the beautiful cities. The last thing you need is that you (unexpectedly) have to connect your car to a charging station.
Often this is not to be found in the immediate vicinity. By renting a holiday home with its own charging station, that tension is not necessary and you can also explore the beautiful Algarve with your own electric car. Of course, you don't have to wait long at our charging station before a spot is available. No, you drive electrically to your holiday villa in the Algarve and plug in your car. Already, fully loaded for your next trip or your journey home.
Electric charging in Portugal isn't free either, of course.
When you go on holiday to Portugal with your electric car, there are several opportunities along the route to charge your electric vehicle. Each charging station has its own pass system and its own prices per kWh you charge. Of course, driving electric is not for free. Also, it is often a chore to find out where you can charge your car properly and quickly. And finally, your charging card has to be accepted by the charging point. Vila Maria's charging station is a genuine Schneider, 3P+N with 5 metres of fixed cable. It is an 11kW charger, 16 amps and with RDC-DD. The fixed cable has a T2 plug also called Mennekes, the inventor of the plug.
Before renting our Vila Maria, you can decide whether you want to use our own home charging station.
Charging via an ordinary socket at Vila Maria is strictly prohibited and can cause a lot of damage to your car and the house. Also because of the large power fluctuations on the public grid. The landlord cannot be held liable in any way for this and any damage caused to the house and/or equipment will be recovered from the tenant.
Vila Maria has a charging station with a load adjuster so that your air conditioning in the house does not fail when charging your car requires a lot of power.
Charge your electric car in the Algarve.
This means that your car will be charged at our charging station only and mostly exclusively during sunlight hours. The solar panels and the national grid then provide the power. If you wish to make use of the possibility of charging your car during your holiday at Vila Maria, your rent per week or part thereof will be increased by 100 Euros. This is to cover the cost of charging and installing the equipment. This additional fee will be charged at the same time as the rental fee. There is no refund if no or little use is made of your car's charging facility and the quoted price for charging is for 1 car/per car. But, the fact that you can go on holiday with peace of mind, knowing that you can start your return journey fully charged and full of new energy is so important.