Algarve Apartment near Praia da Rocha, Portimao with pool and sea view!

Algarve Apartment Vila Arade – Portimao is great for summer holidays but also ideal for long winter stays in the Algarve. In the left building, the middle 2 balconies on the highest floor are for you. There is a spacious double bedroom and a luxurious double sofa bed in the living room. For Wintersun, Winter holidays, Hibernation, Wintering in the Algarve, Portugal. Summer vacation in Algarve. Algarve Apartment Vila Arade – Portimao also for a winter vacation. Near several Pestana Golf Courses.
A grand view from your 2 balconies of your apartment Vila Arade in Portimao. Algarve Apartment Vila Arade – Portimao
Beautiful sea views and views over the Arade river await you at this great top-floor (3rd) apartment. It is on the outskirts of the city of Portimao. Just 800m away from Praia da Rocha. Here there are lovely beaches, bars, and restaurants. Vila Arade is an attractive apartment (78m2) for couples or small families. It is equipped with all modern conveniences. Especially for people over 50, seniors, and the elderly. People who like to overwinter in the Algarve and to enjoy the winter sun while on a long winter holiday in the Algarve.
Algarve Apartment Vila Arade – Portimao with a lift to the third floor.
The elevator takes you from the hall or garage to the spacious apartment. Here, the bedroom and living room both have a spacious balcony with stunning views. Our bathroom with sink and toilet has a bathtub with a shower. The spacious kitchen is equipped with all appliances and even your own washing machine.
Luxury lounge with sea views.
The living room has satellite TV, a dining and sitting area with a luxury sofa bed for 2. And, of course, you have free wifi internet. Our apartment is equipped with air conditioning in both the living room and the bedroom The units can also heat the rooms during the winter months. Pleasant for a nice beach holiday in the warm summer sun and ideal for a short or long comfortable winter stay. Indulge in the winter sun in the Algarve. And, pets are allowed. It is a non-smoking apartment, inside but on the balconies, it is allowed, of course.
Two spacious balconies and a roof terrace. Algarve Apartment Vila Arade – Portimao.
From the two sunny balconies, you can enjoy the view. Watch the incoming fishing boats, water taxis, ferries to Madeira, and cruise ships. From your lounger, you can relax and watch everything that happens on the Arade river. As well as the village of Ferragudo across the river. This is also possible from the communal roof terrace. Here you can make free use of the fixed BBQ. A pair of binoculars are part of the inventory.
Google Maps Location Vila Arade
Vila Arade Image Gallery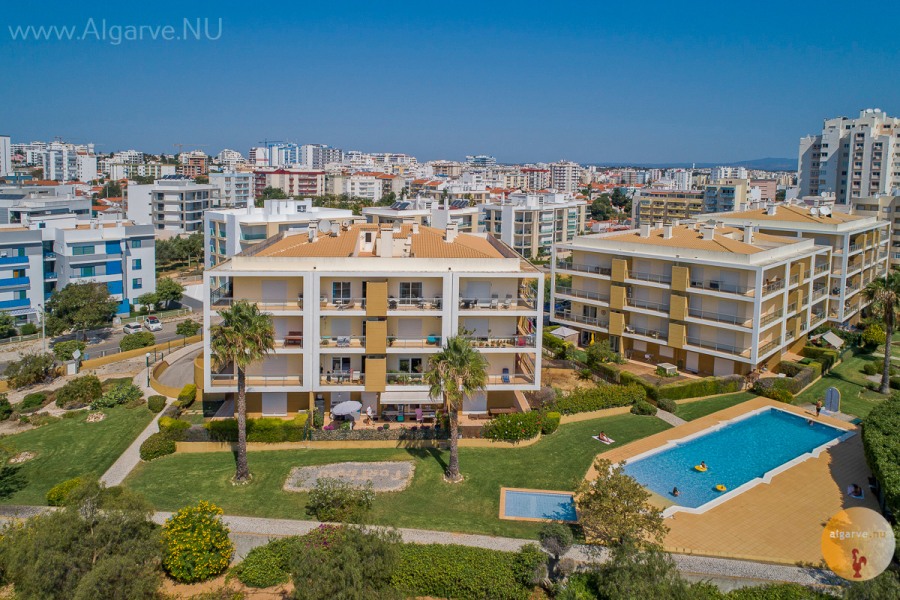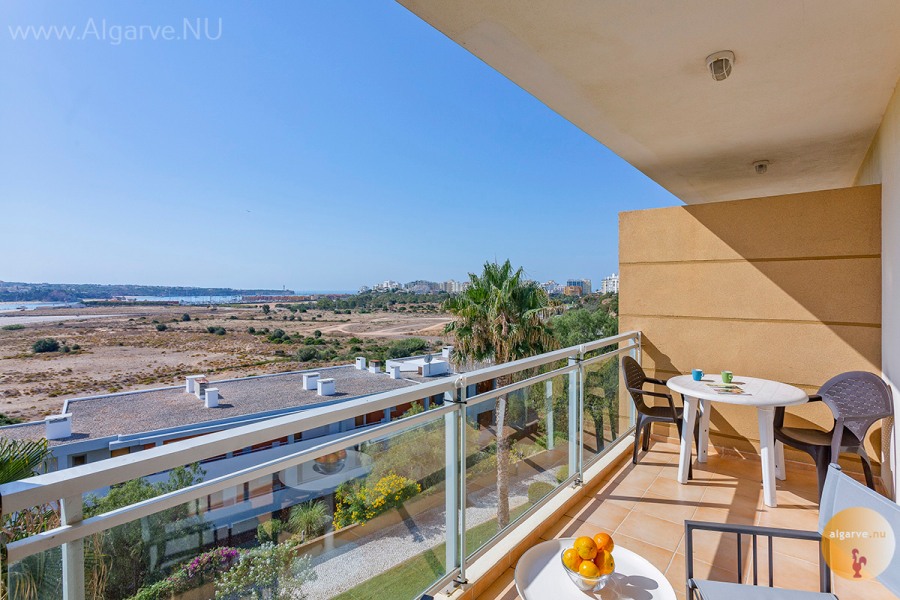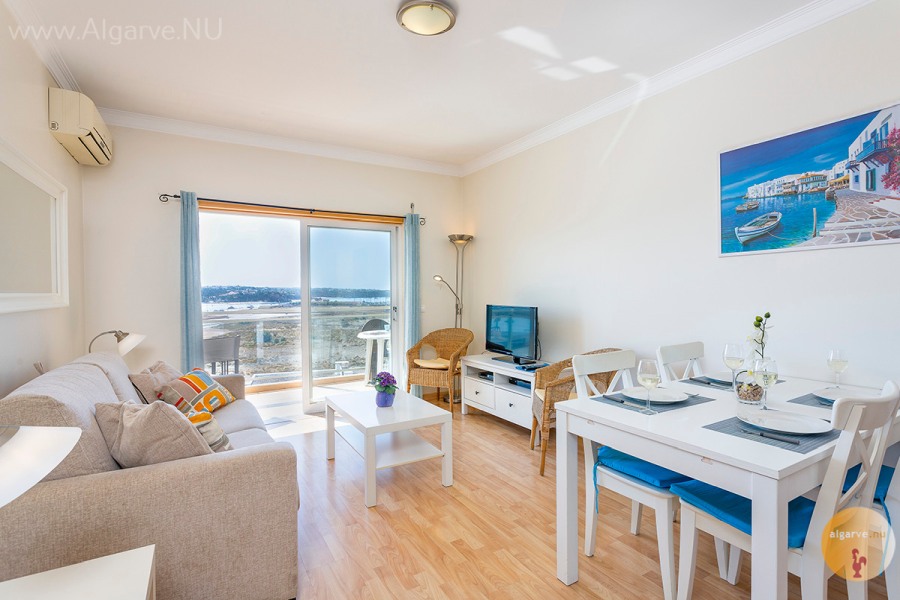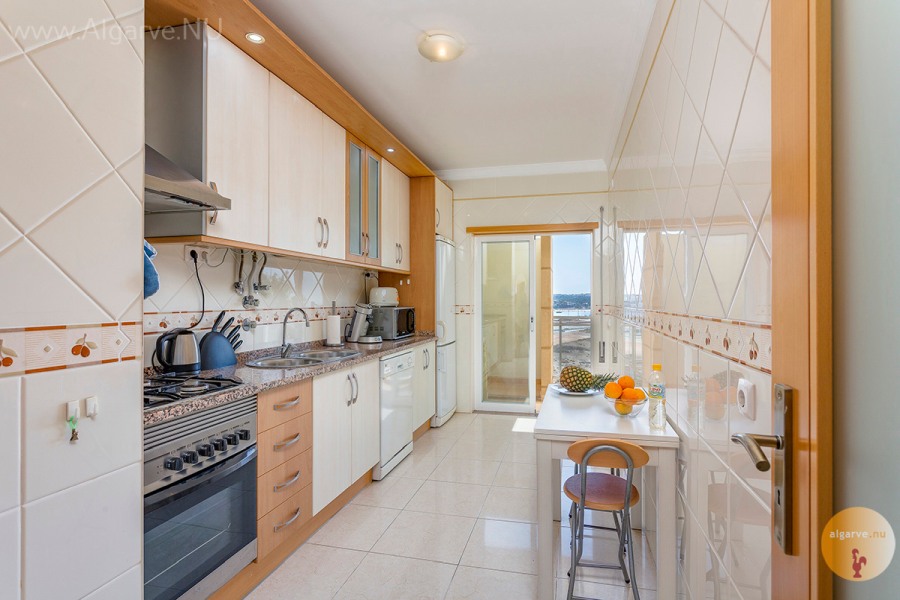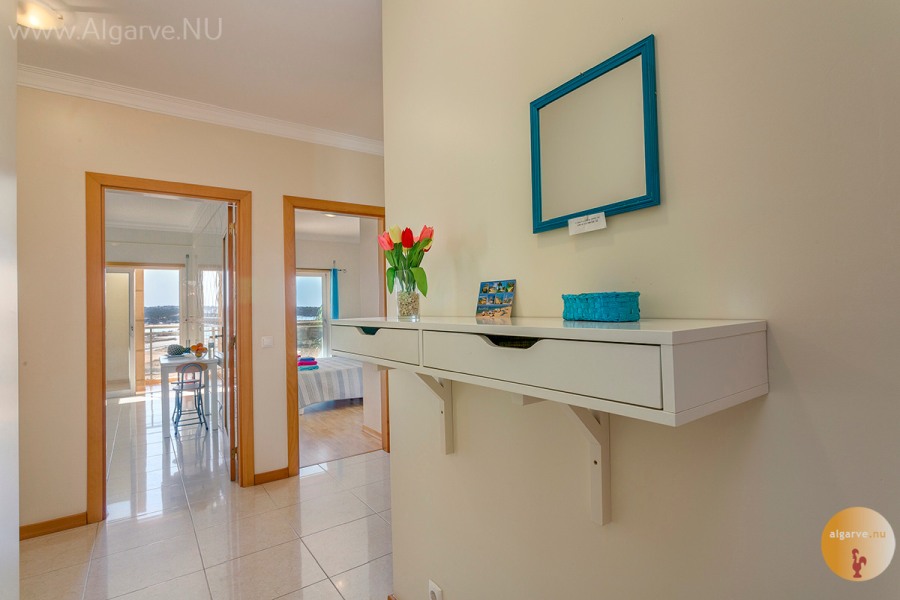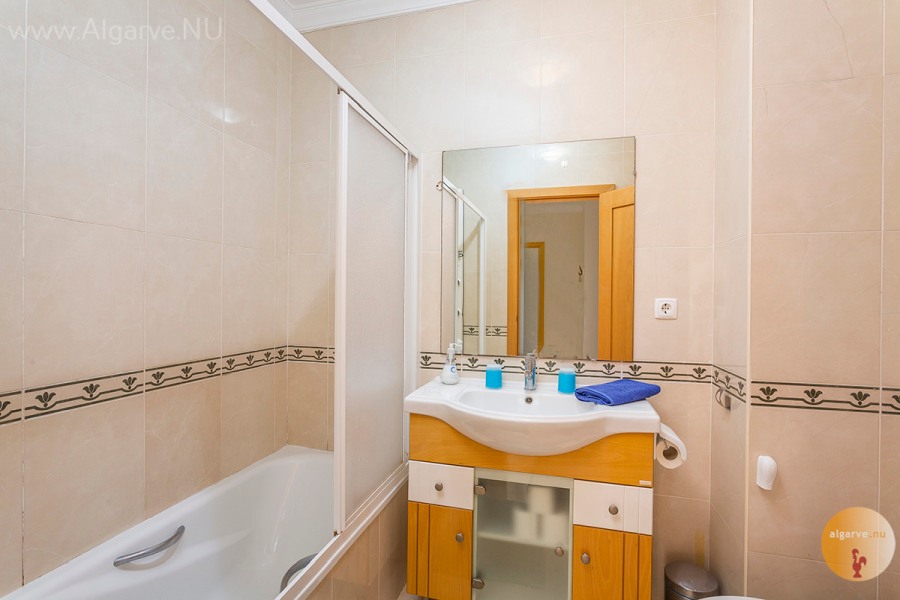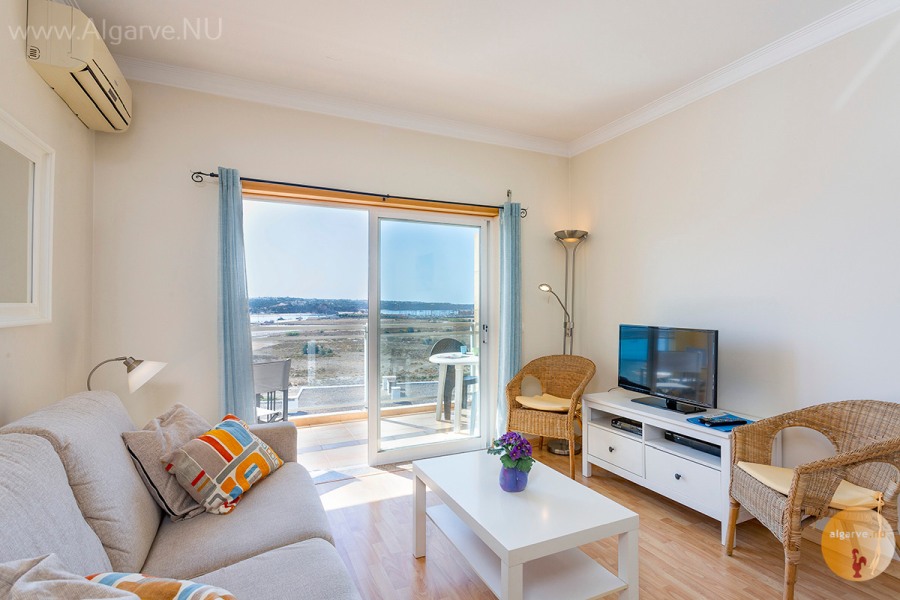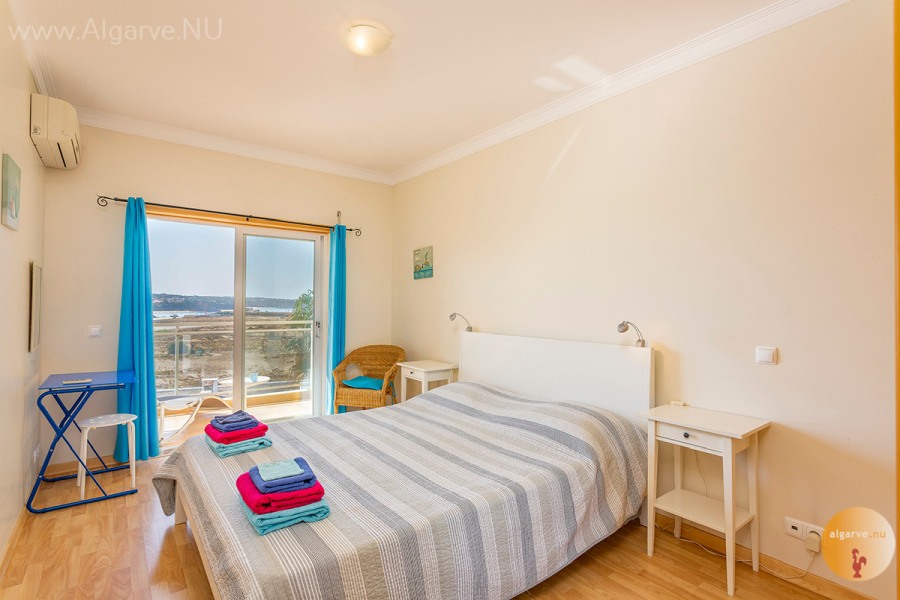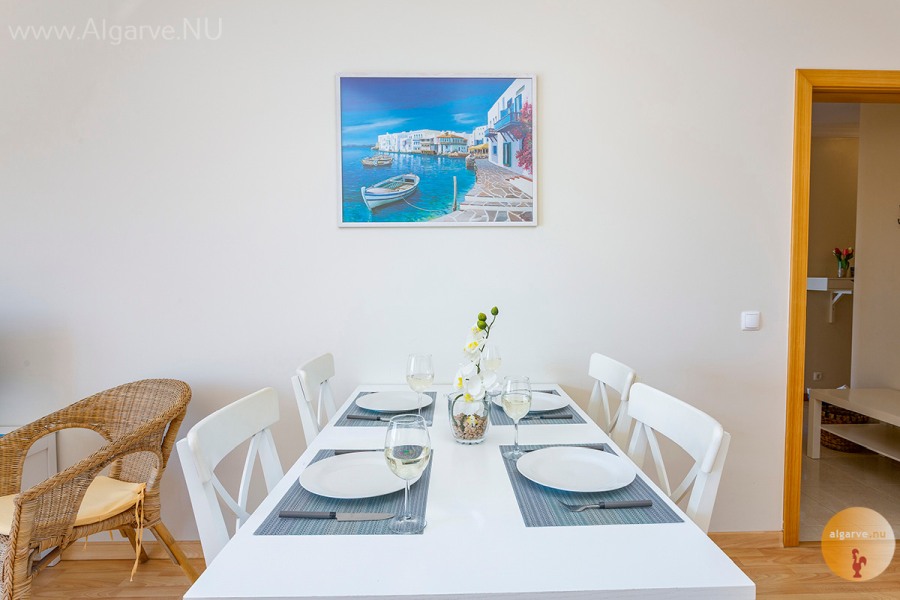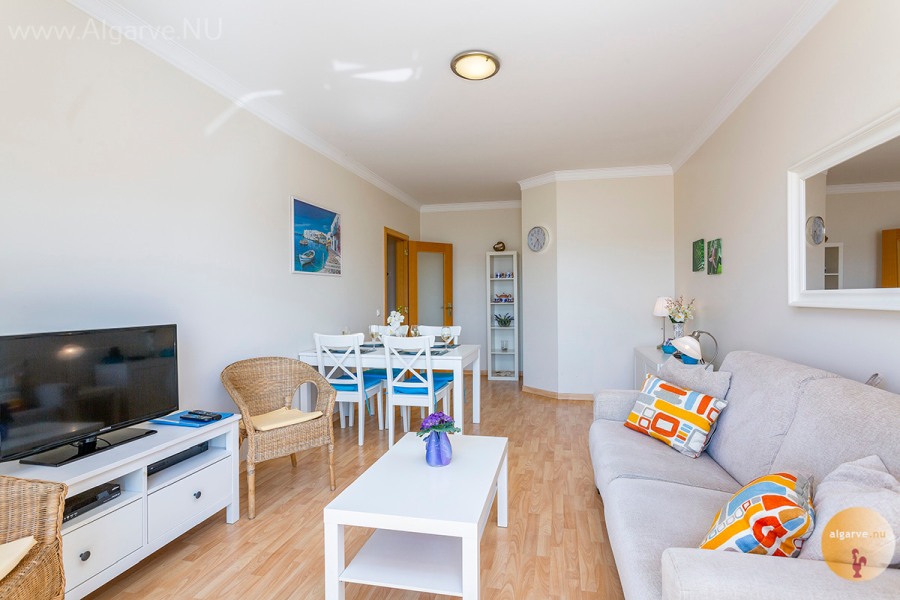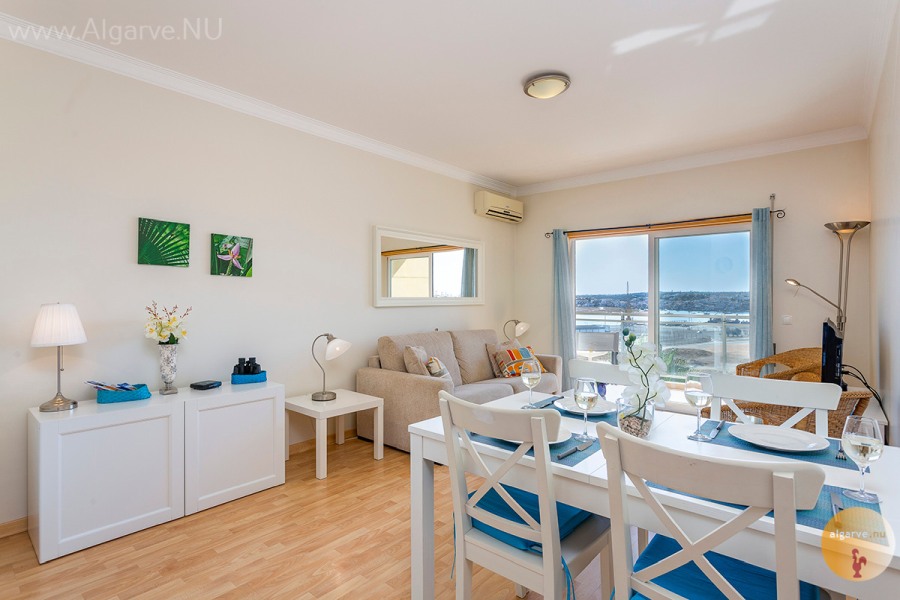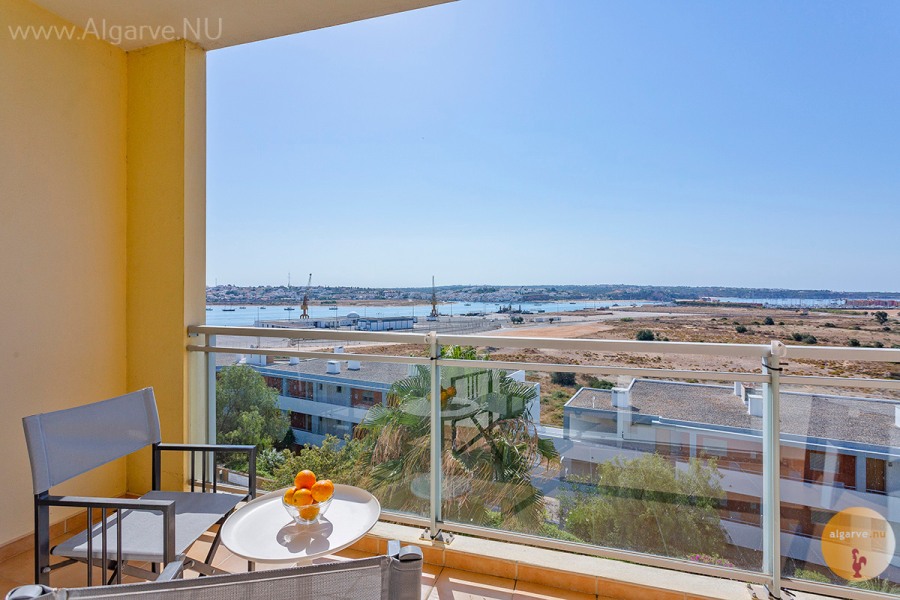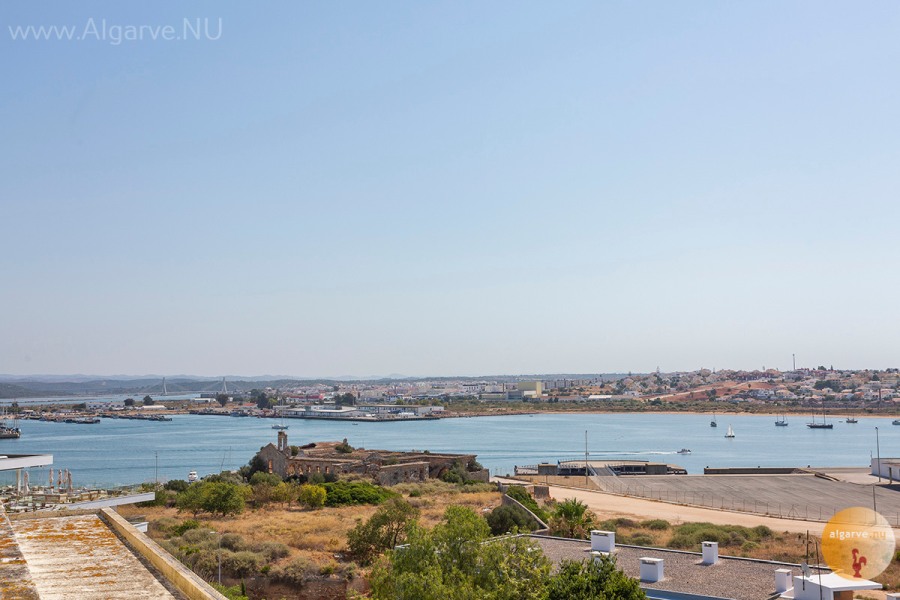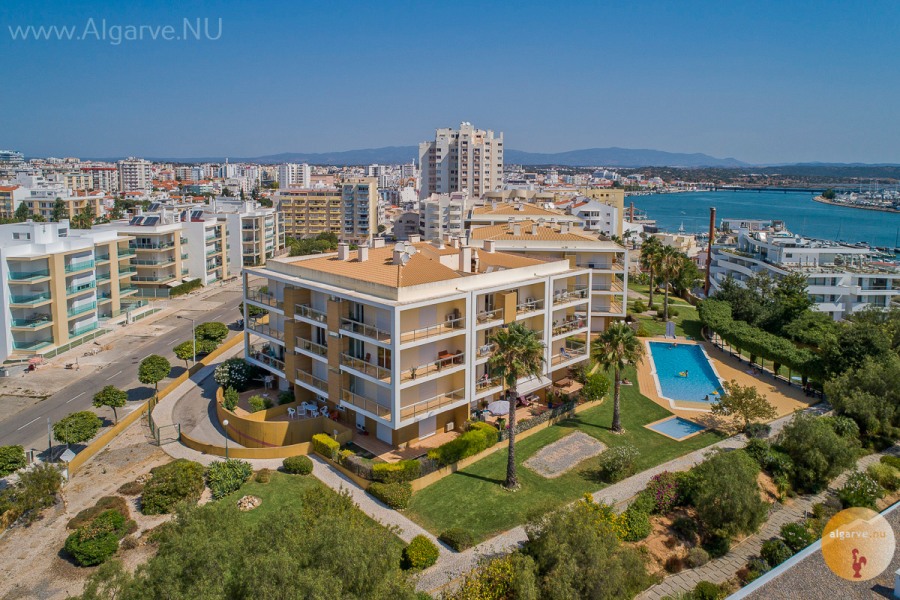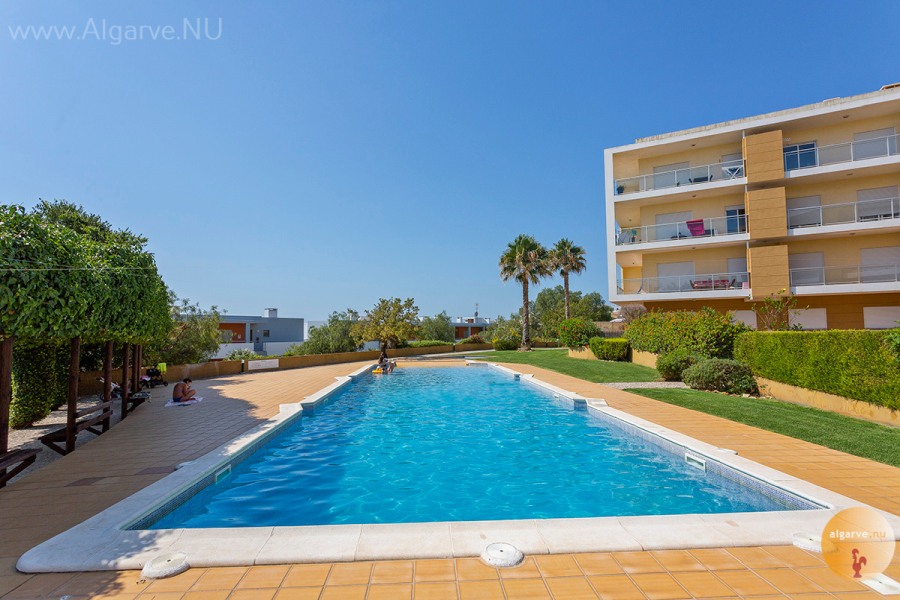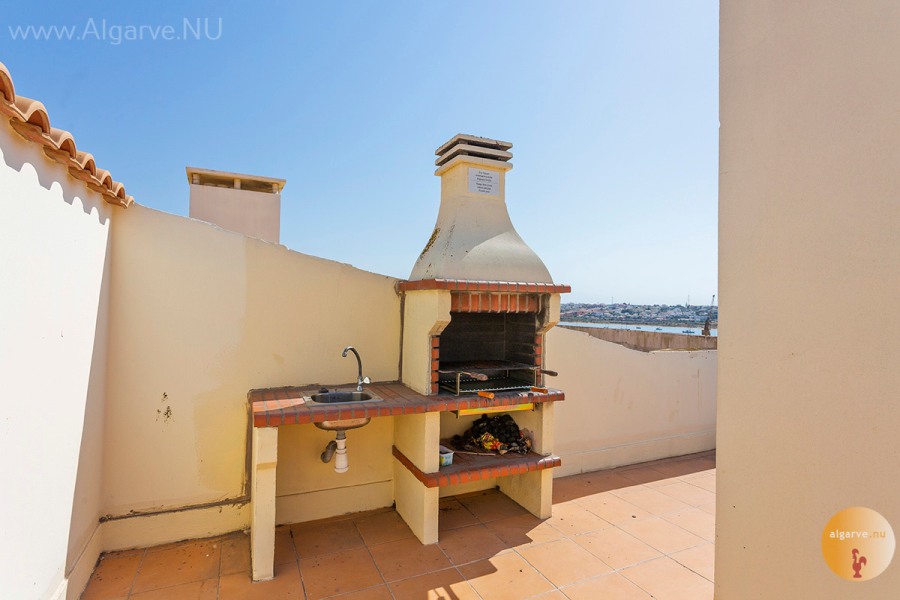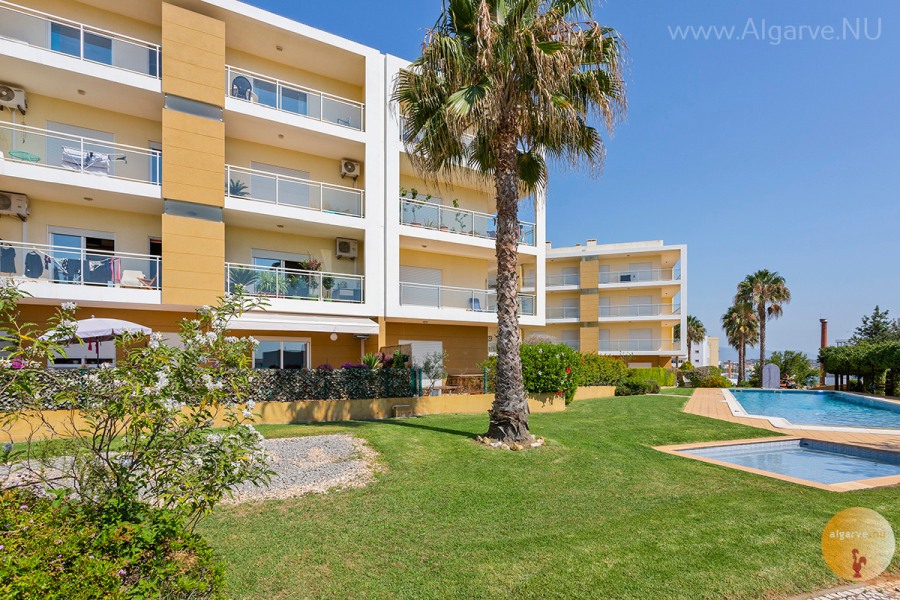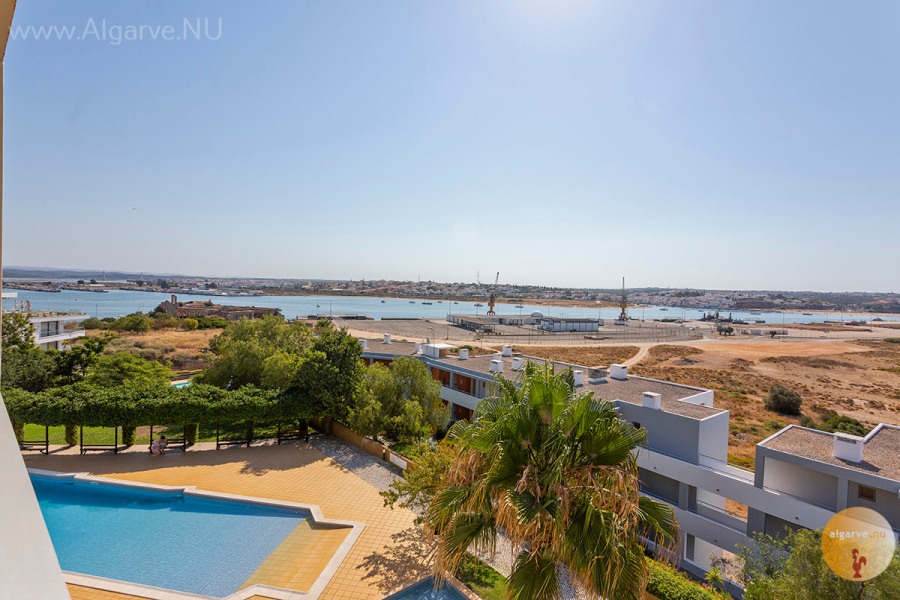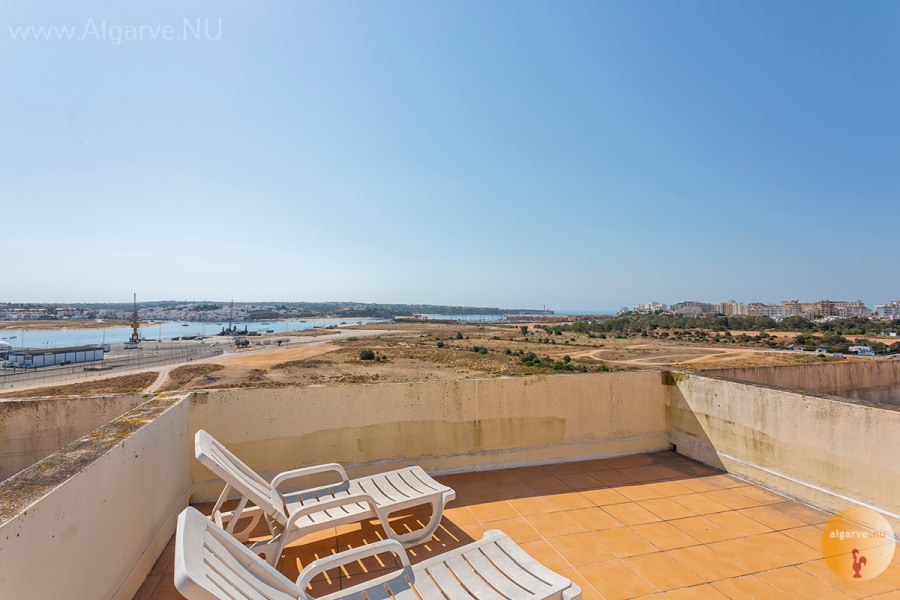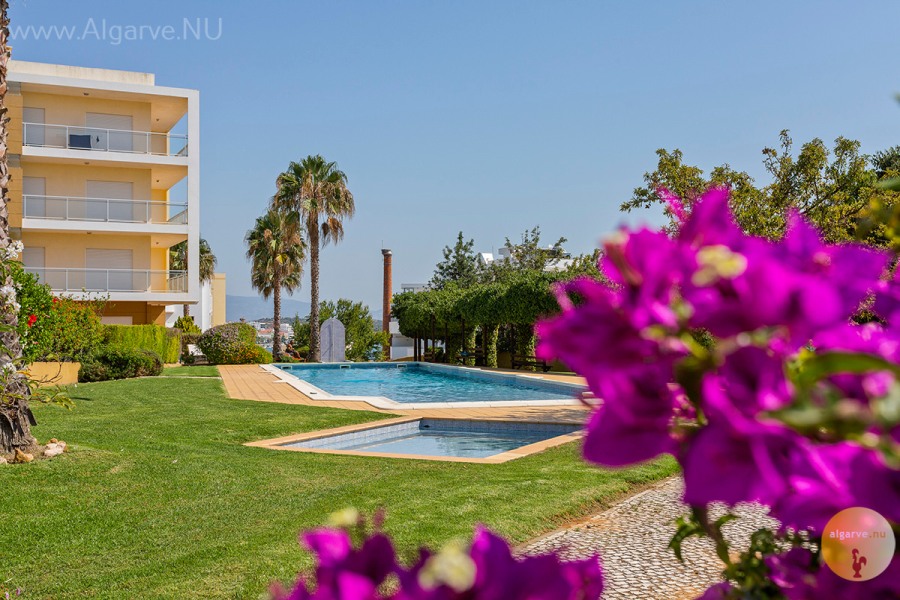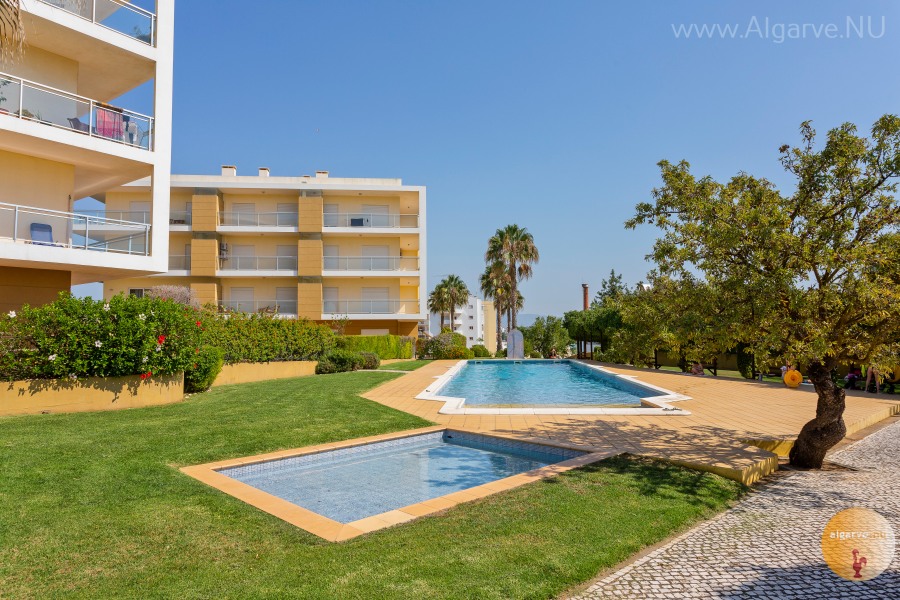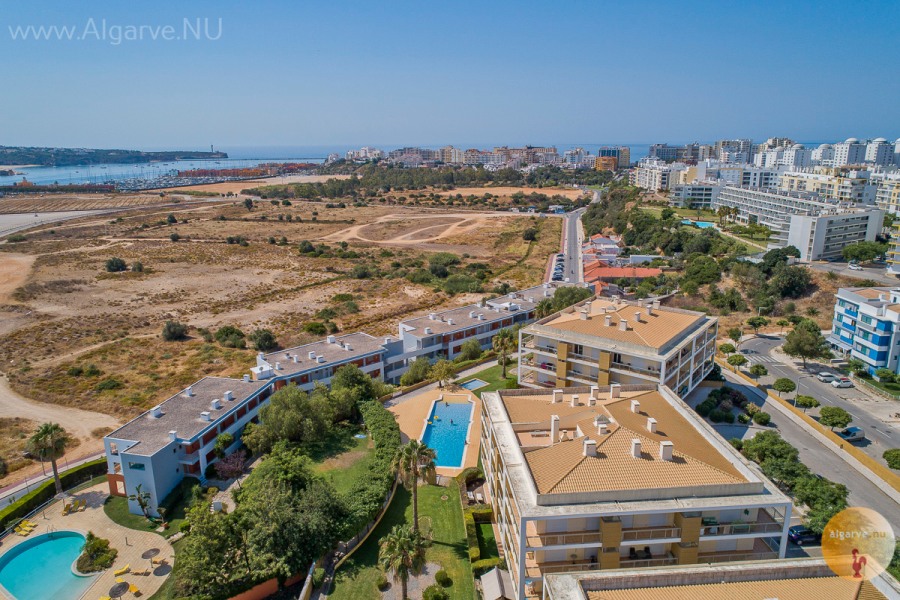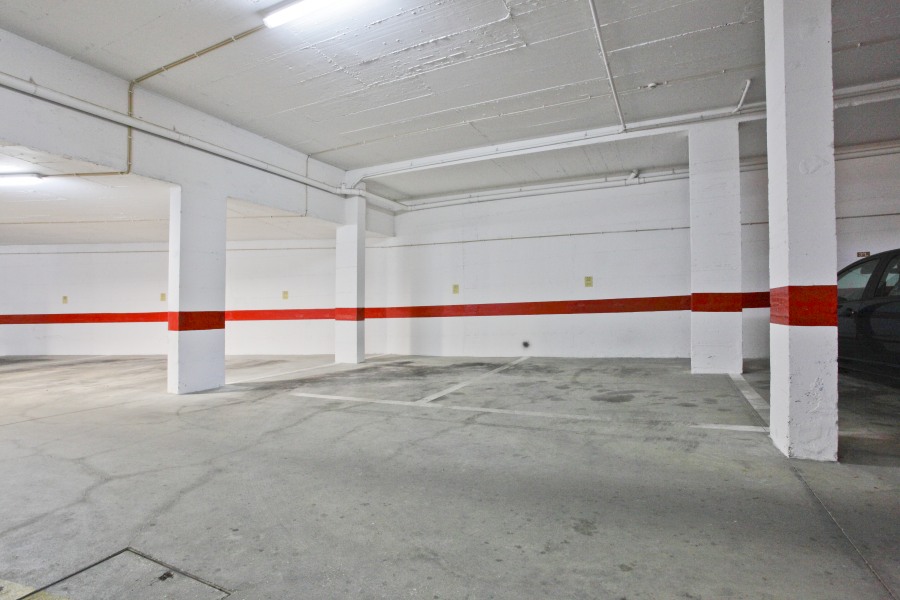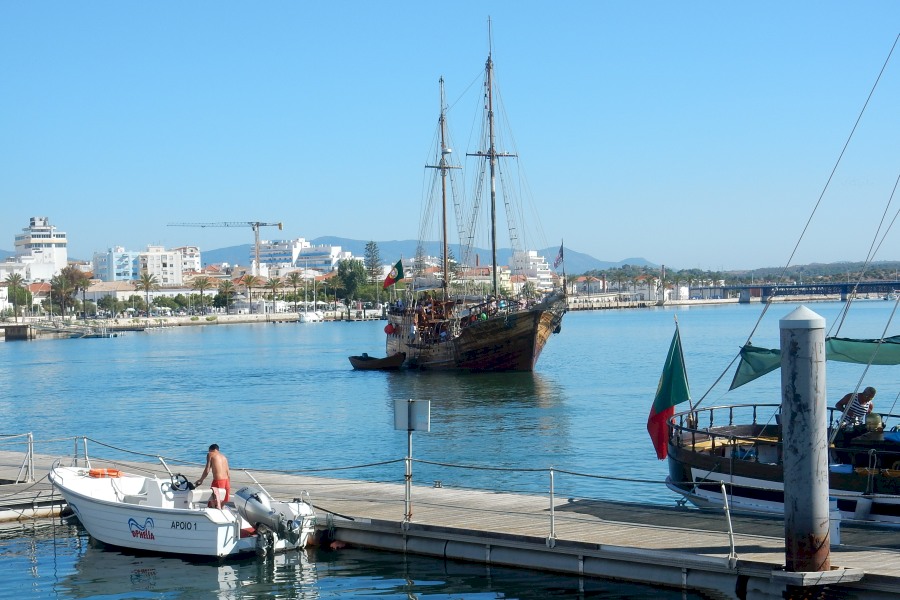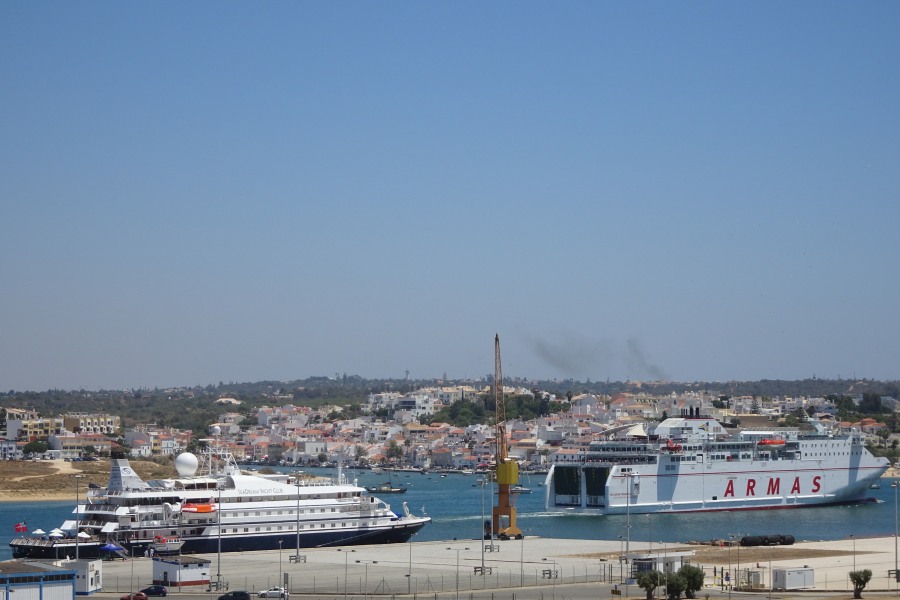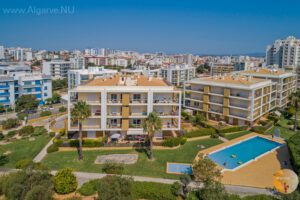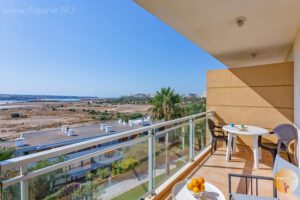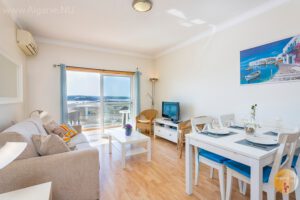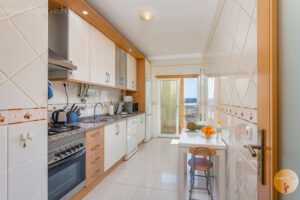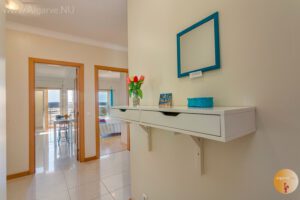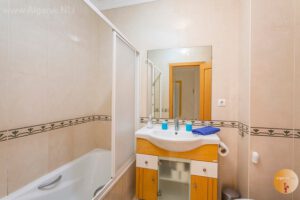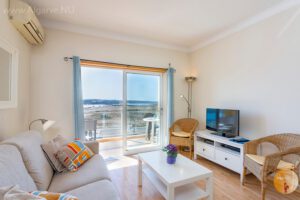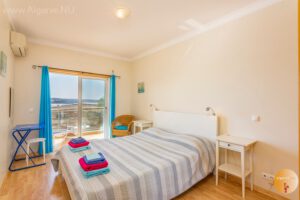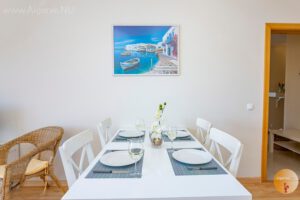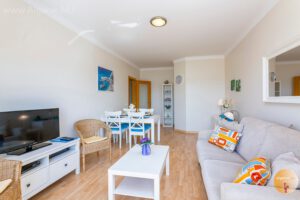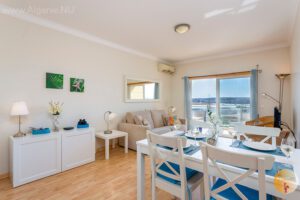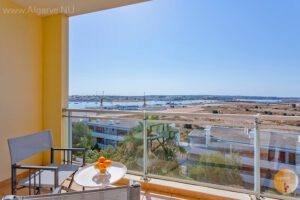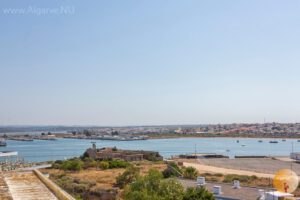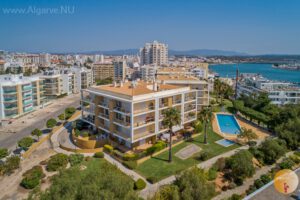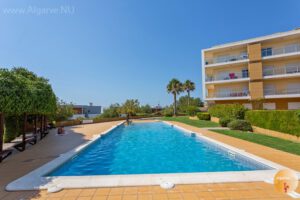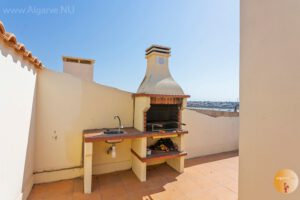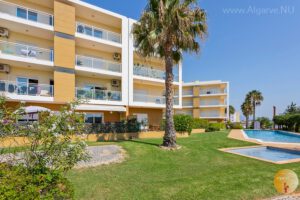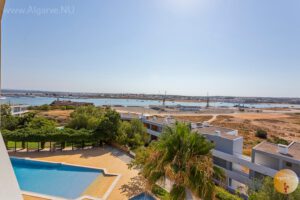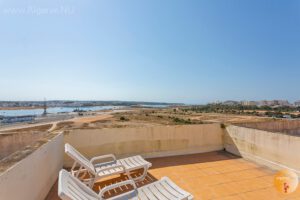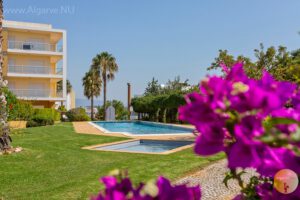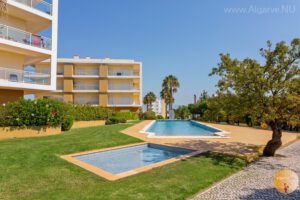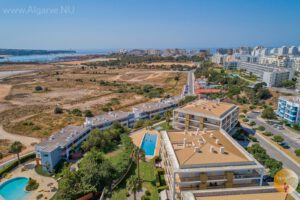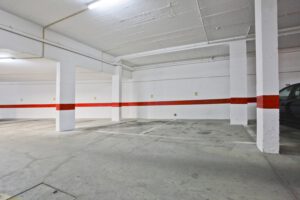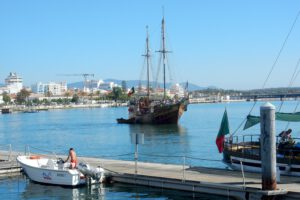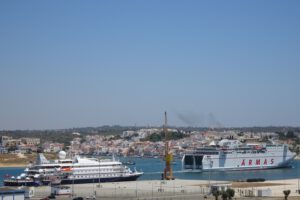 Algarve Apartment with swimming pool.
And in the easily accessible well-maintained garden you have access to a large illuminated swimming pool. With a separate child's pool with an outdoor shower. The elevator takes you up from the garage with your own parking space. Right to the front door of the apartment on the third floor. This makes the apartment wheelchair-rollator friendly because there are no barriers and all is threshold-free. There is also free parking on the well-secured premises at the complex.
To your Portimao apartment from Faro International Airport
The Algarve Apartment Vila Arade – Portimao is only a 45-minute drive away from Faro airport. And, all facilities are within walking distance of your apartment. And if you encounter a practical problem then you have your own hostess during your stay. Joké (you may already be familiar with her from Kras Travels) is easily accessible. She is very experienced and can help you with all your questions. Algarve Apartment Vila Arade – Portimao, near marinas and beaches.
View the Vila Arade video

Vila Arade has also its own website, please check out apartmentinportugal.org

Rental cars at good prices can be obtained at Faro Airport Car Rental with pick-up and return at the Faro airport.
---
4.8 out of 5 stars (based on 8 reviews)
Would you like to write your own review for Vila Arade? Please click here.
---
Super apartment with an amazing view!
My wife and I spend 9 days in this apartment and we simply loved it. The apartment is clean, very light, modern and located kind of perfect. It is quiet but at the same time you are 2 minutes from the city life/boulevard etc. The walks to the beach are very nice as well. We relaxed en enjoyed the place really a lot!! The view has many different flavors; the river, beaches and the Ocean. The lady who takes care and clean was very available and friendly. We hope to come back.
Response from Algarve.nu
Thank you so much for your excellent review! It makes us feel proud! Please tell your friends as well. THANKS!
Super flat!
It is a very nice flat with a lot of space. Your flat is cleaned twice a week. The staff is also very friendly. The only downside was the shower, which is in the bathtub but has a great spray system.
The location is perfect! The beach is close by. You are also close to all the shops and you have nice clubs and restaurants. You are just outside the crowds. We have therefore not suffered from noise pollution.
I would recommend this flat to everyone!
Response from Algarve.nu
So glad to get your review. Thanks and please tell your family and friends.
Worth repeating
Beautiful spacious flat with stunning sea views. 2x weekly cleaning, towels and bath towels available free of charge, TV with many channels, comfortable. Sofa bed, complete kitchen with kettle, coffee machine and aircons and Wi-Fi for free. Beach, restaurants on short walking distance, casino in Praia da Rocha and a nice boulevard with shops in both Praia da Rocha and Portimao.
Response from Algarve.nu
Hi Charles. So glad you followed my directions to the casino. I hope it was worth your while,
Enjoyed!
It is a fantastic fully equipped flat with unprecedented views from the two balconies. Clean, spacious, cosy interior. Lovely that there is a very large swimming pool and a separate children's pool. We will definitely recommend this accommodation to our friends.
What a view.
Nice and cosy flat with full equipment, including a dishwasher and washing machine. We found that very nice! Great location but close to the centre. Excellent place. Car recommended if you want to see more of the Algarve. Not really necessary, but free parking in your own spot is ideal.
Response from Algarve.nu
Do come again, please,
---
Ask for the special prices that apply for overwintering / long winter stays. Pets are welcome!