Algarve Apartment Vila Arade – Portimao near Praia da Rocha
Algarve Apartment near Praia da Rocha, Portimao with pool and sea view!

Algarve Apartment Vila Arade – Portimao is great for not only summer holidays but also ideal for long winter stays in the Algarve. In the left side building, the middle 2 balconies on the highest floor are for you. There is a spacious double bedroom and a luxurious double sofa bed in the living room. For Wintersun, Winter holidays, Hibernation, Wintering in the Algarve, Portugal. Summer vacation in Algarve. Algarve Apartment Vila Arade – Portimao near Praia da Rocha beach also for a winter vacation. Near several Pestana Golf Courses.
A grand view from your 2 balconies of your apartment Vila Arade in Portimao. Algarve Apartment Vila Arade – Portimao near Praia da Rocha.
Beautiful sea views and views over the Arade river await you at this great top-floor (3rd) apartment. It is on the outskirts of the city of Portimao. Just 800m away from Praia da Rocha. Here there are lovely beaches, bars, and restaurants. Vila Arade is an attractive apartment (78m2) for couples or small families. It is equipped with all modern conveniences. Especially for people over 50, seniors, and the elderly. People who like to overwinter in the Algarve and to enjoy the winter sun while on a long winter holiday in the Algarve.
Algarve Apartment Vila Arade – Portimao with a lift to the third floor.
The elevator takes you from the hall or garage to the spacious apartment. Here, the bedroom and living room both have a spacious balcony with stunning views. Our bathroom with sink and toilet has a bathtub with a shower. The spacious kitchen is equipped with all appliances and even your own washing machine.
Luxury lounge, Algarve apartment with sea views.
The living room has satellite TV, a dining and sitting area with a luxury sofa bed for 2. And, of course, you have free wifi internet. Our apartment is equipped with air conditioning in both the living room and the bedroom. The units can also heat the rooms during the winter months. Pleasant for a nice beach holiday in the warm summer sun and ideal for a short or long comfortable winter stay. Indulge in the winter sun in the Algarve. Pets are allowed. It is a non-smoking apartment, inside but on the balconies and roof terrace, it is allowed, of course.
Two spacious balconies and a roof terrace. Algarve Apartment Vila Arade – Portimao.
From the two sunny balconies, you can enjoy the view. Watch the incoming fishing boats, water taxis, ferries to Madeira, and cruise ships. From your lounger, you can relax and watch everything that happens on the Arade river. As well as the village of Ferragudo across the river. This is also possible from the communal roof terrace. Here you can make free use of the fixed BBQ. A pair of binoculars are part of the inventory.
Google Maps Location Vila Arade
Vila Arade Image Gallery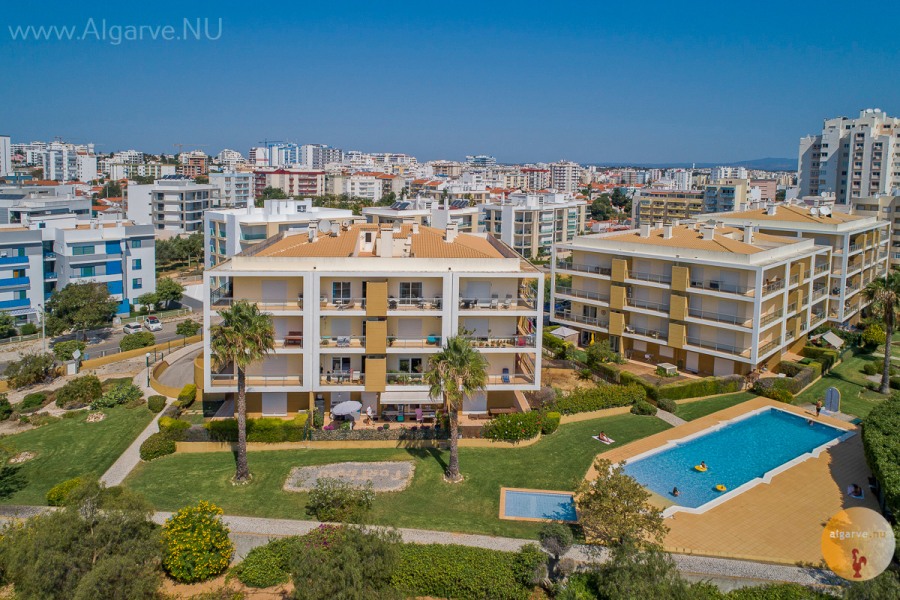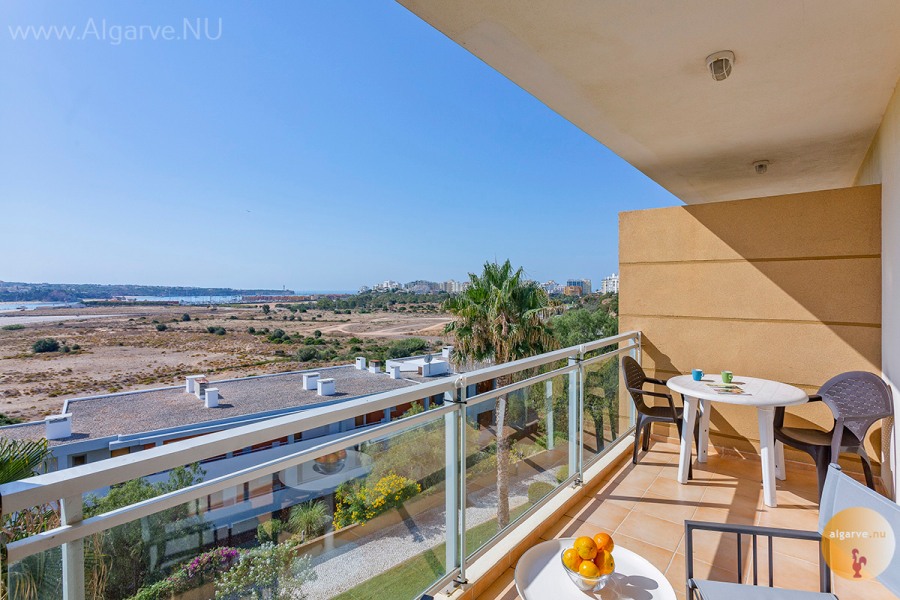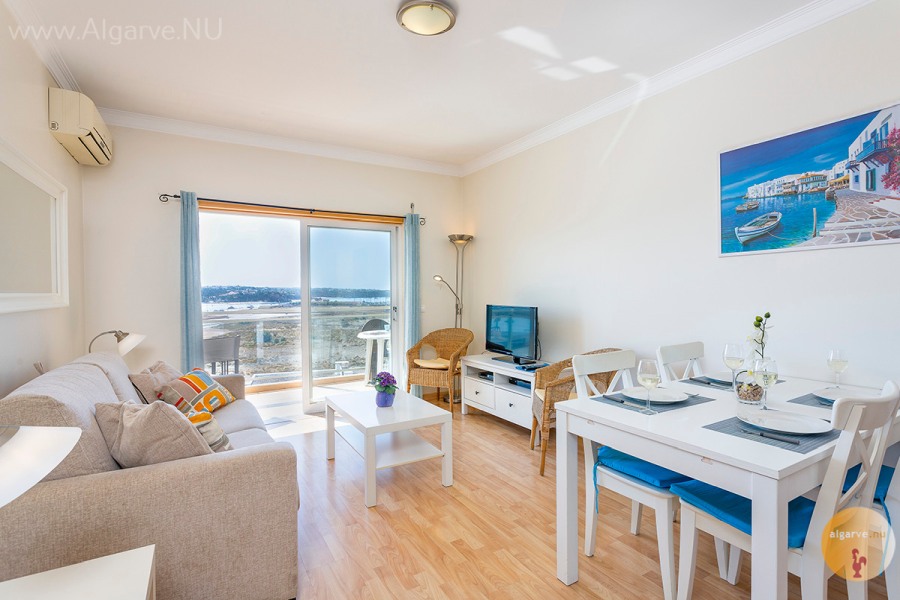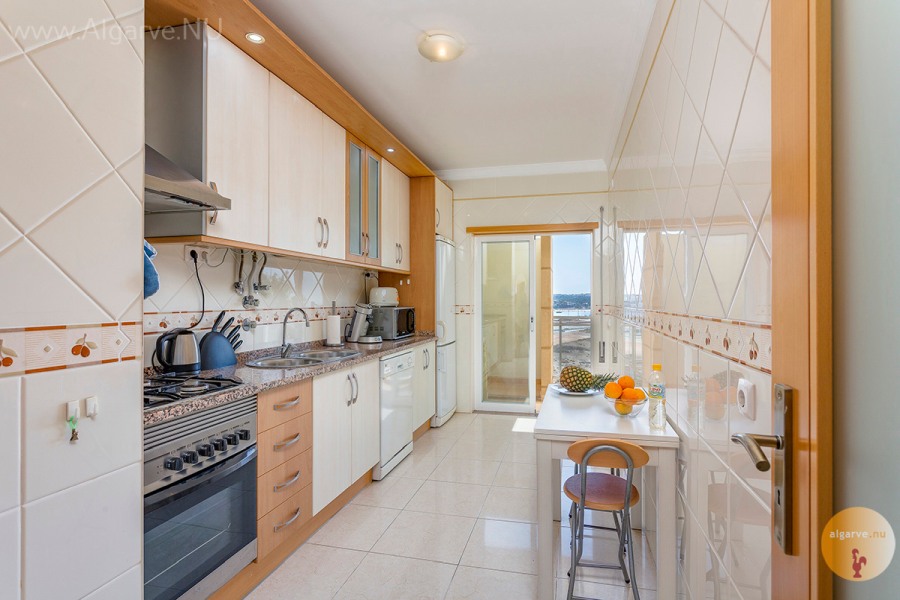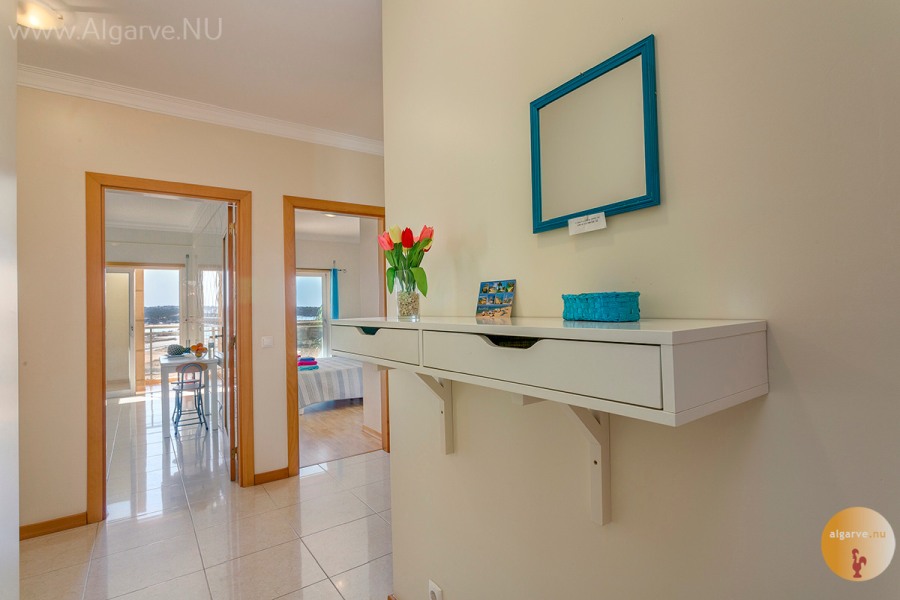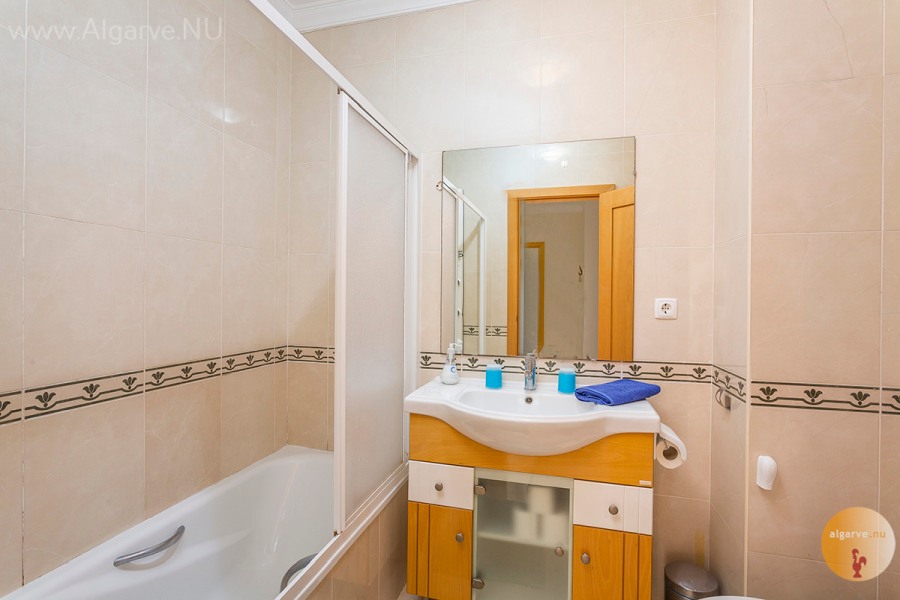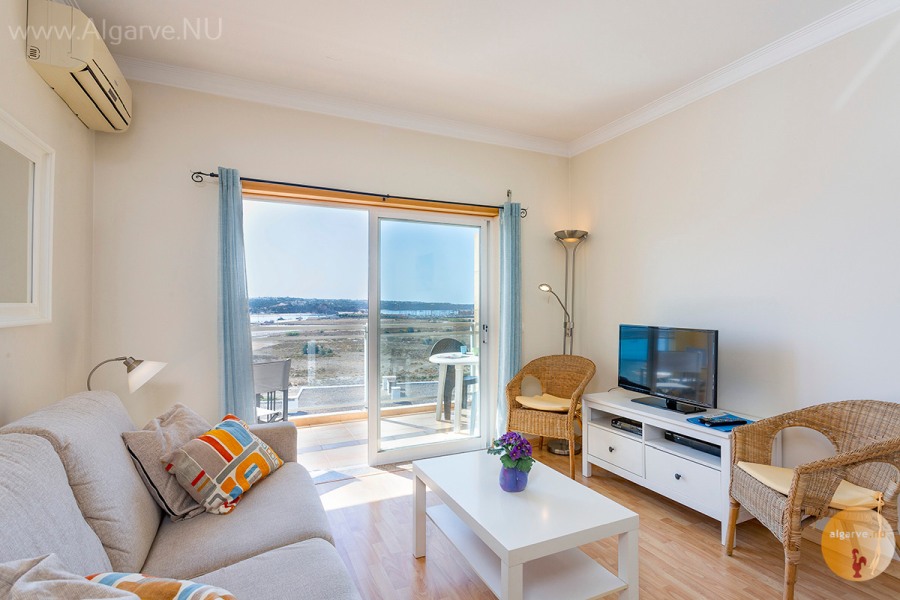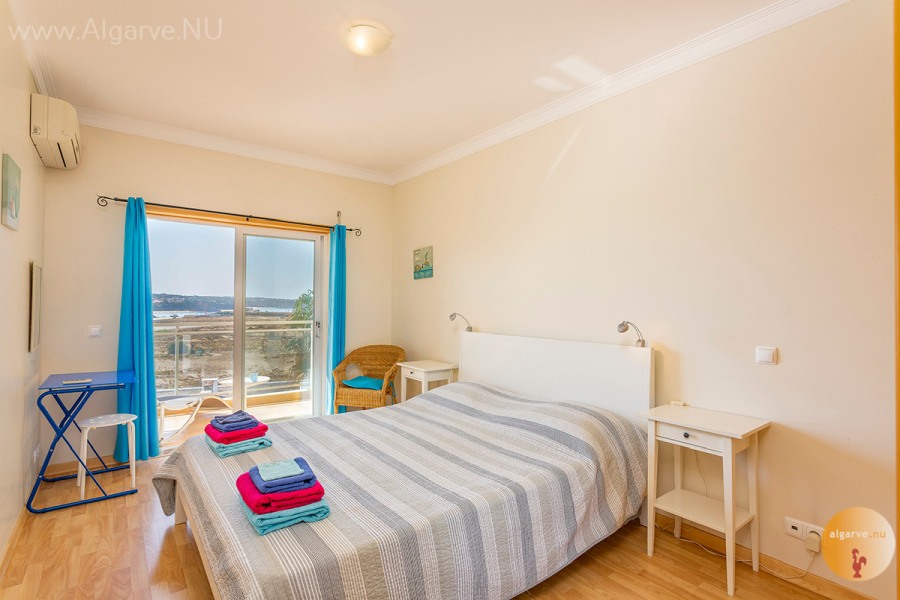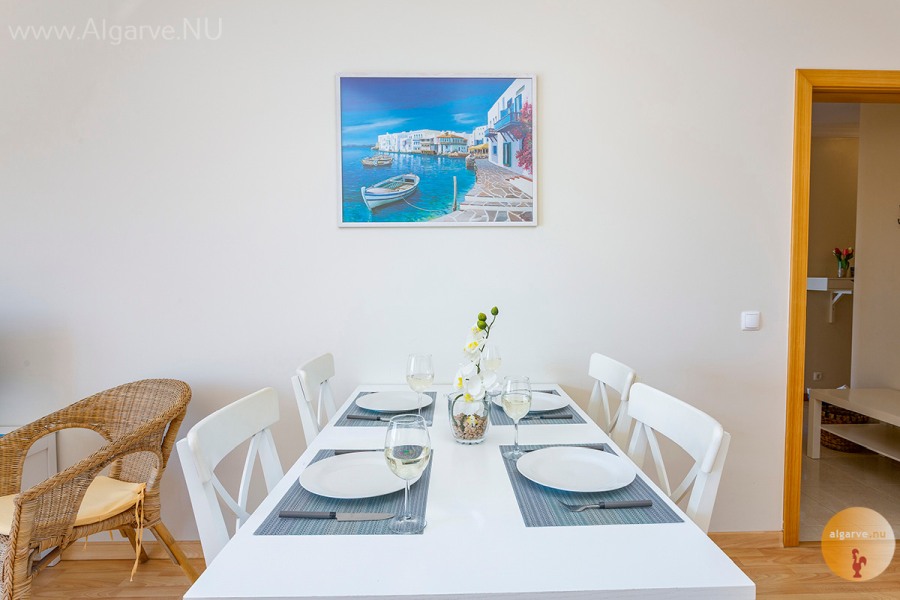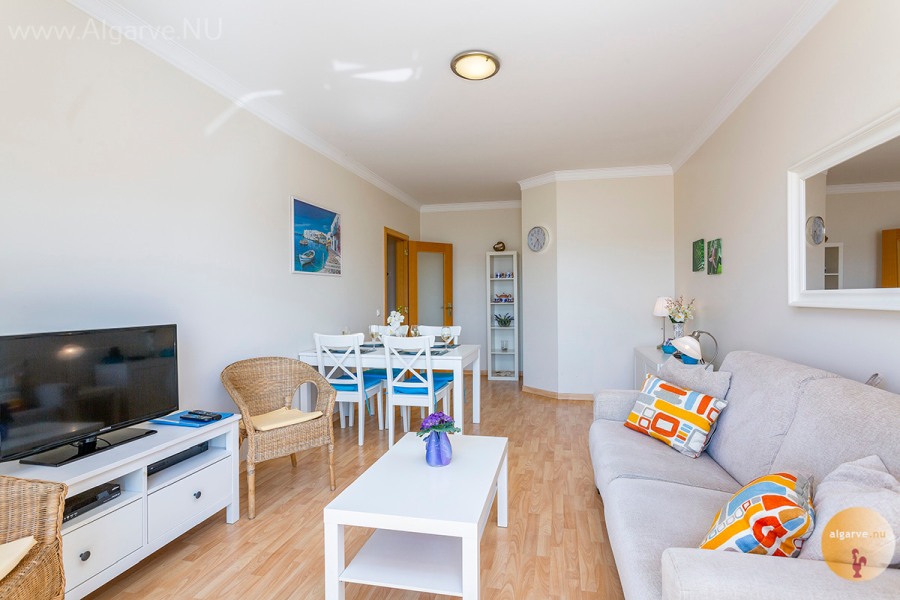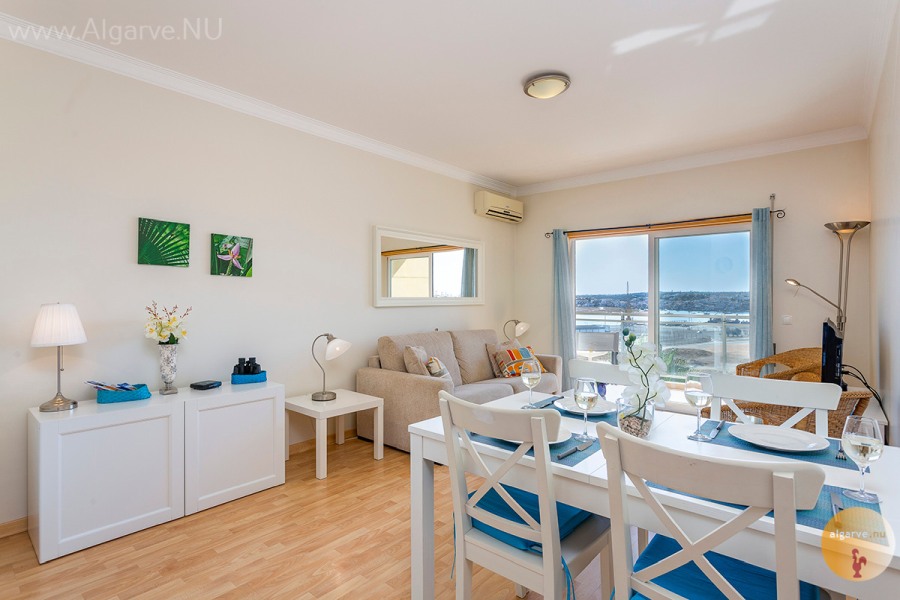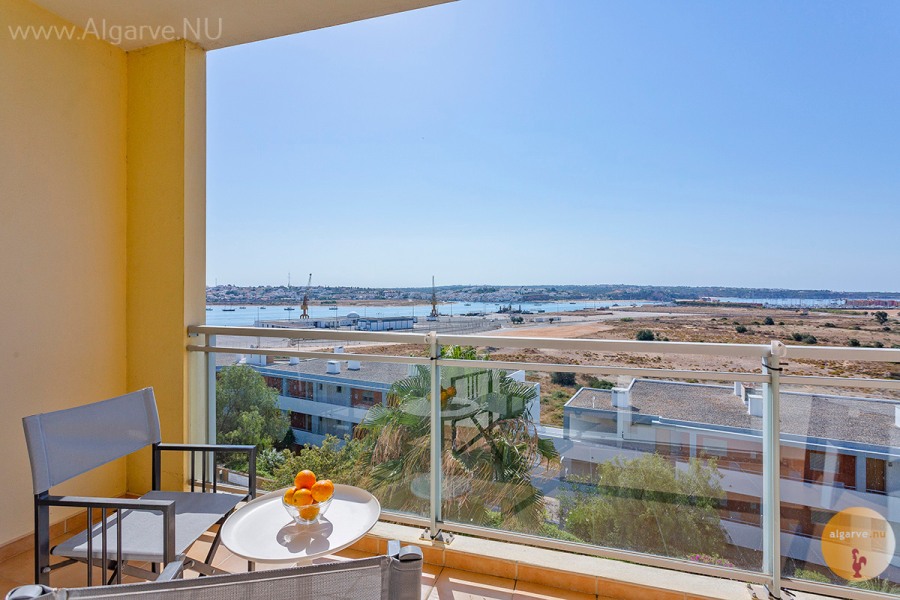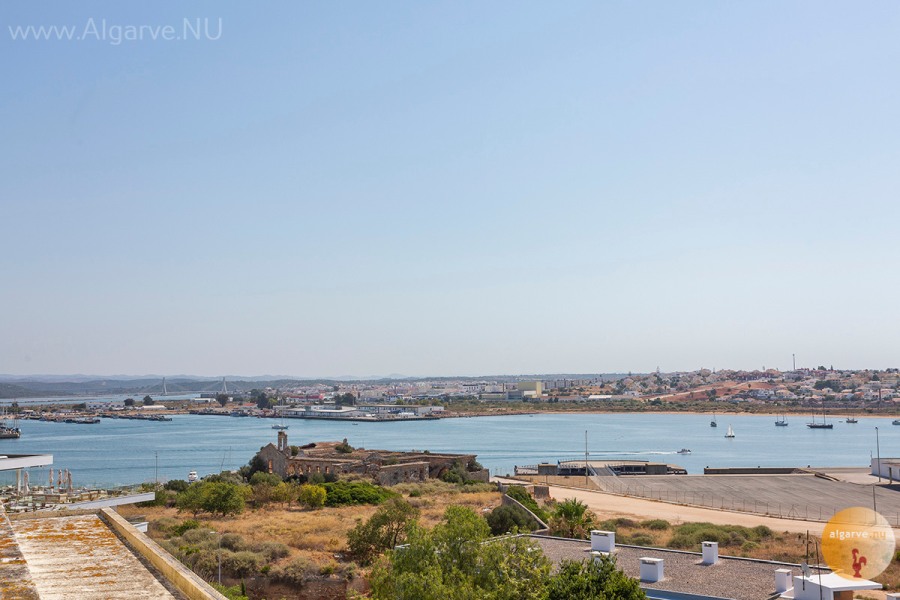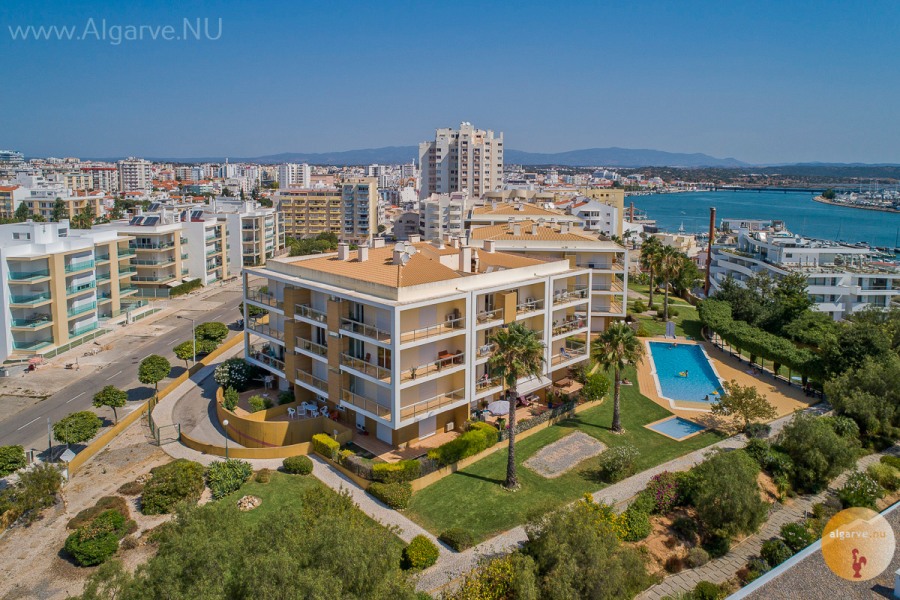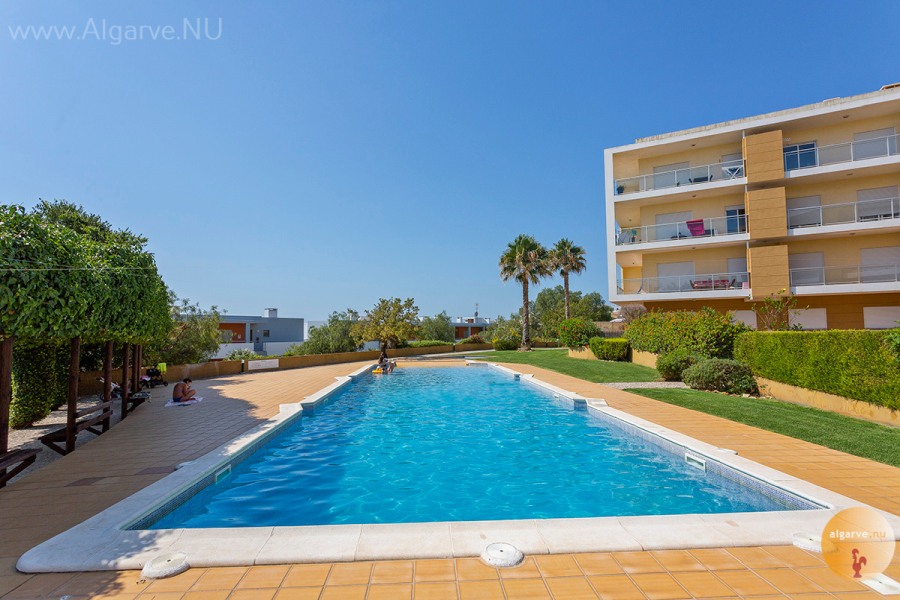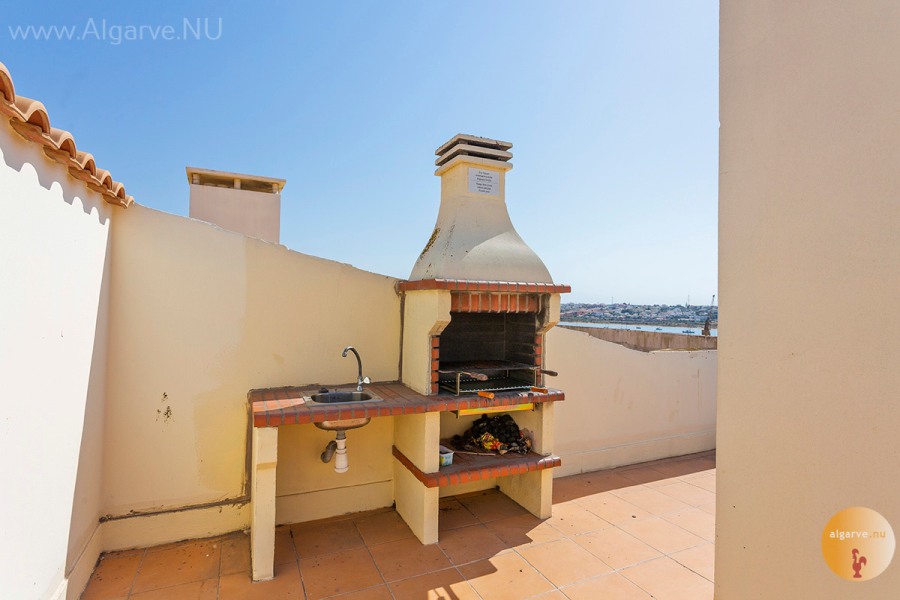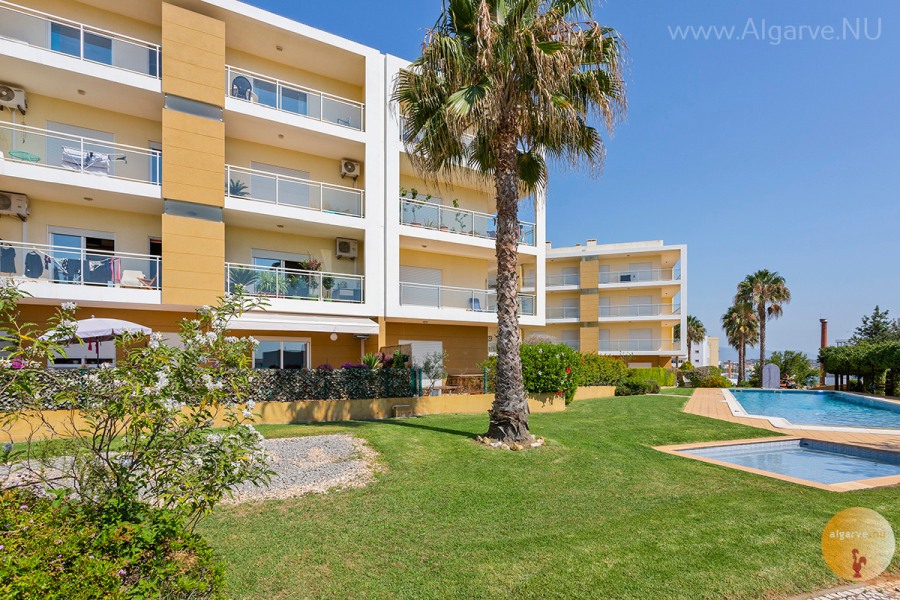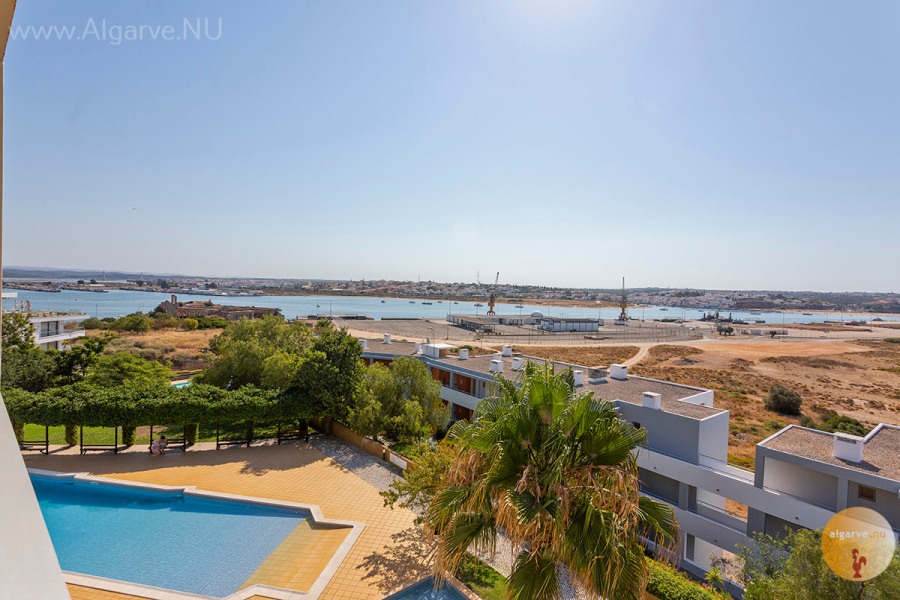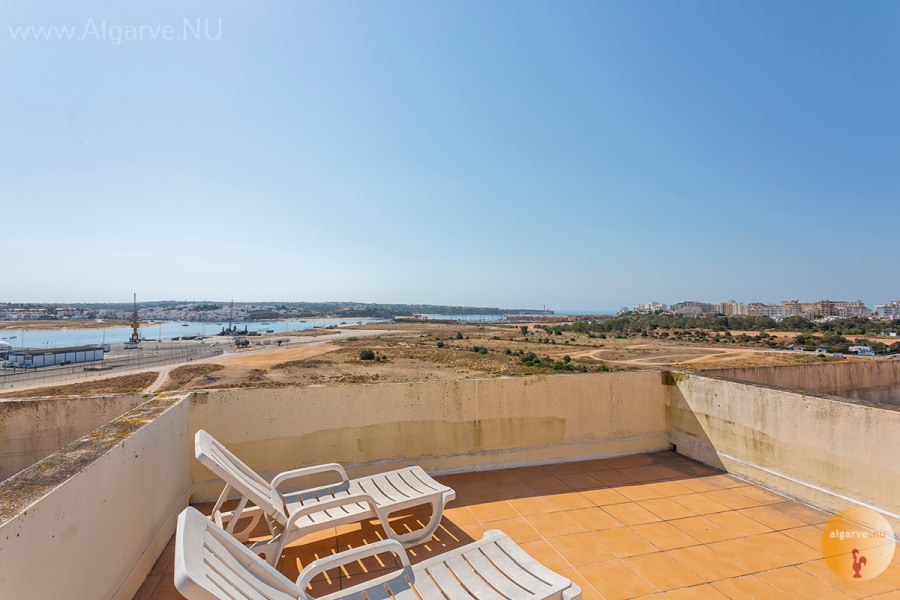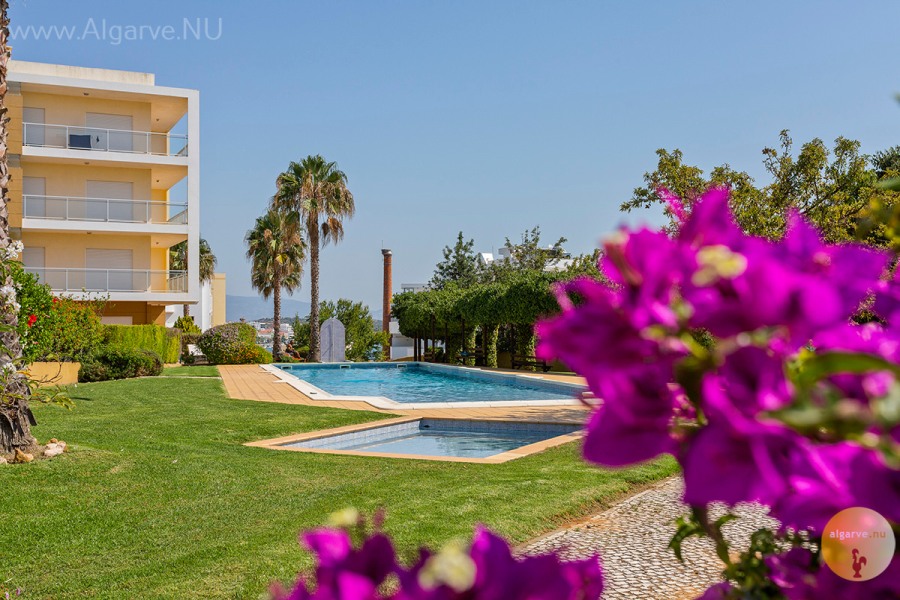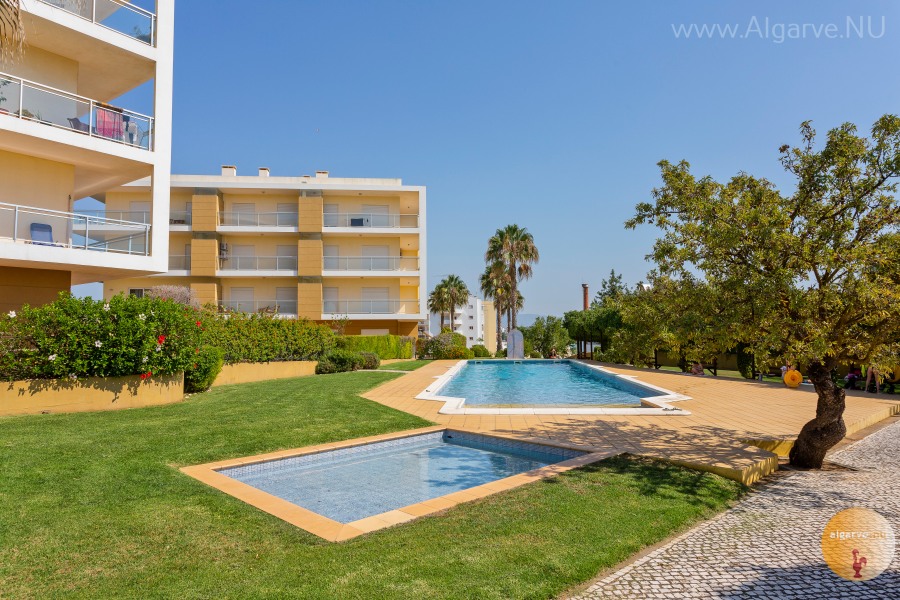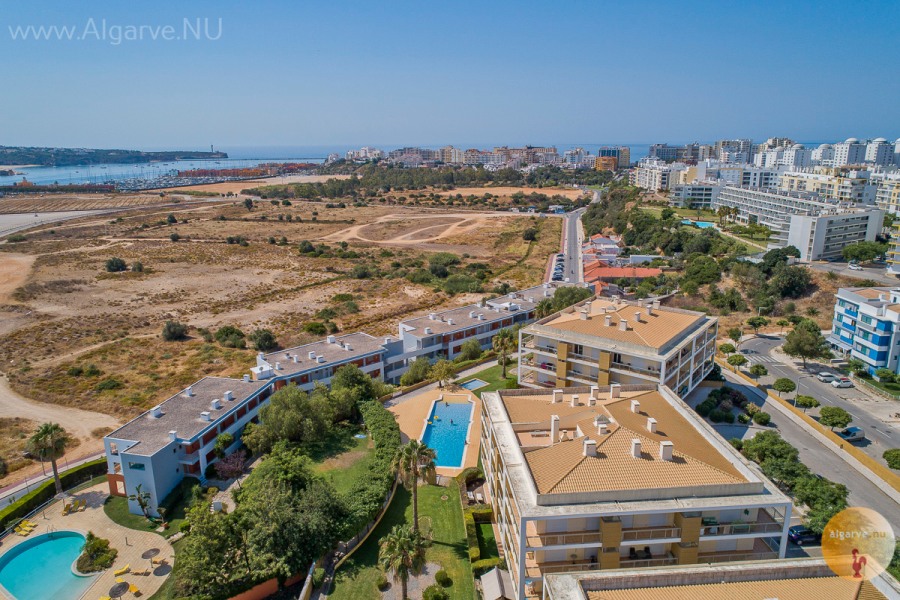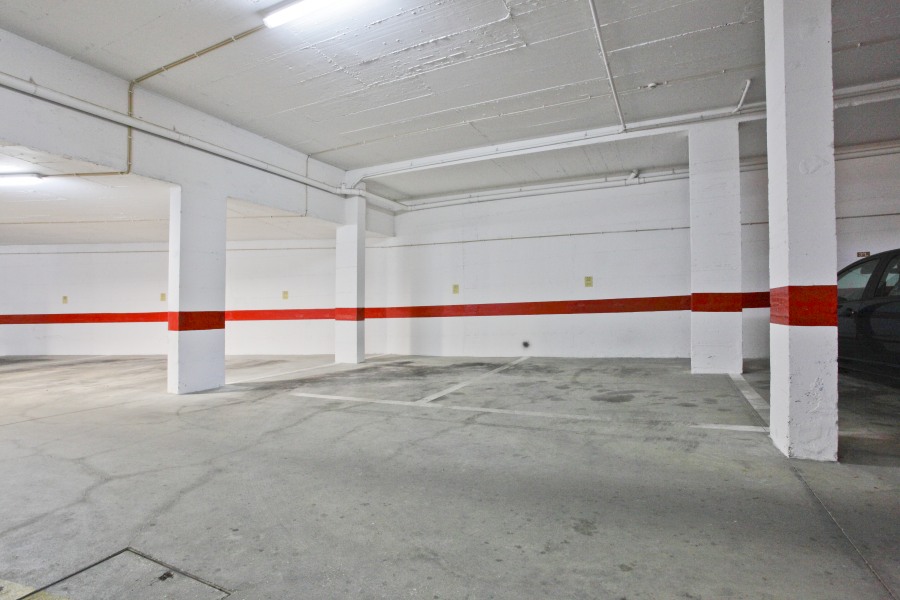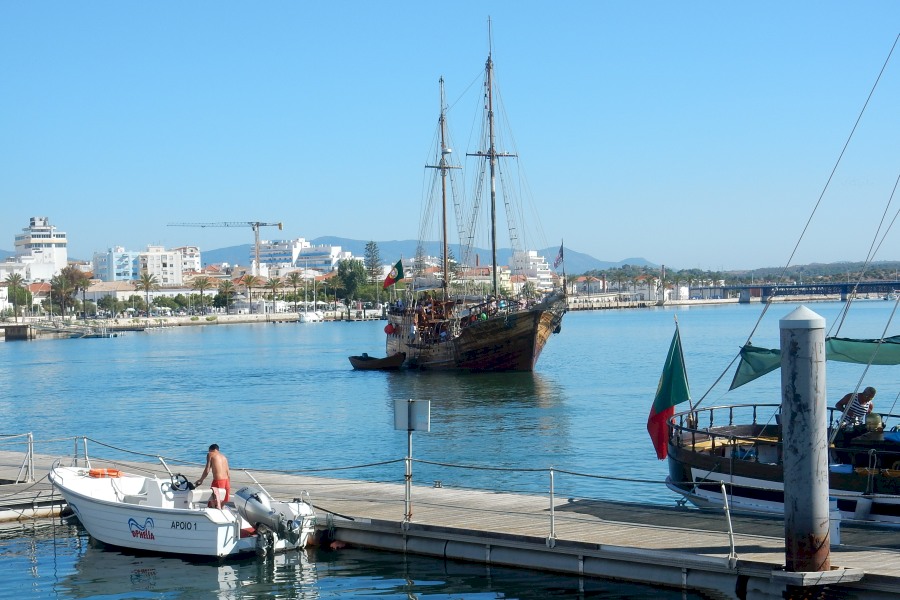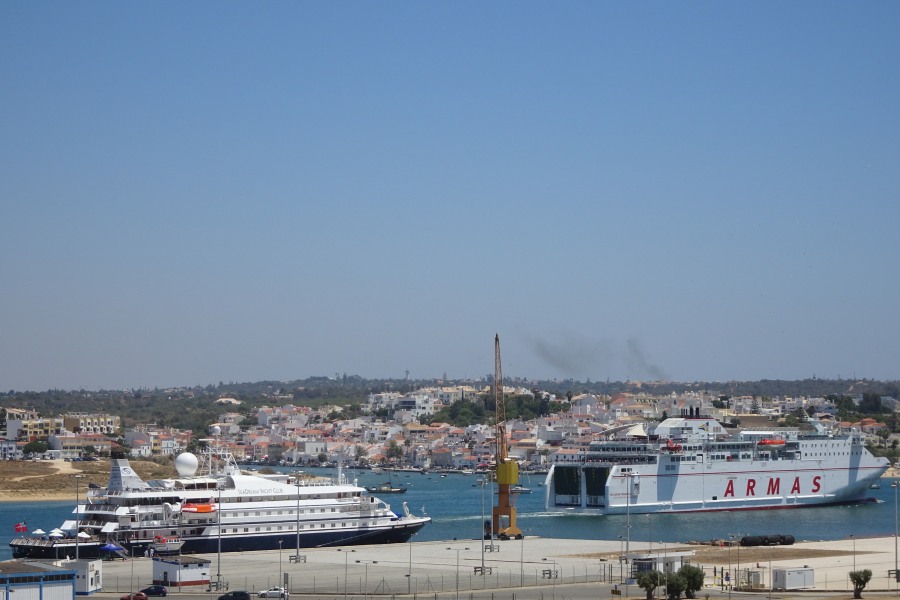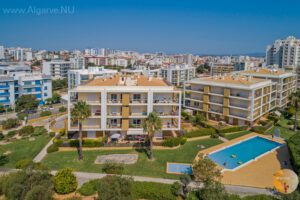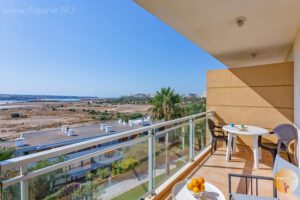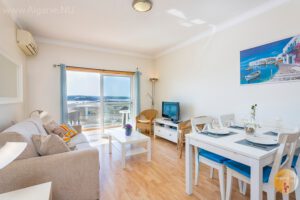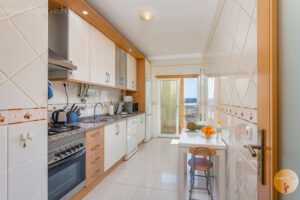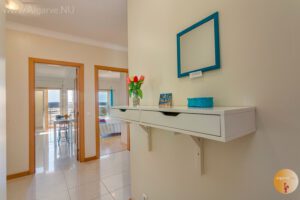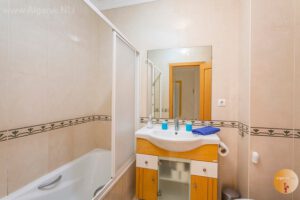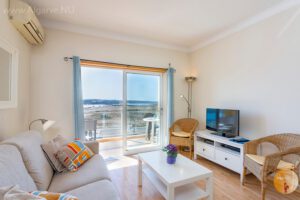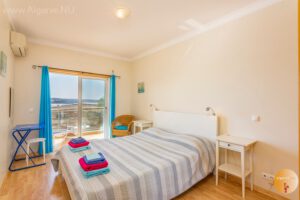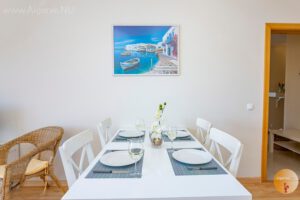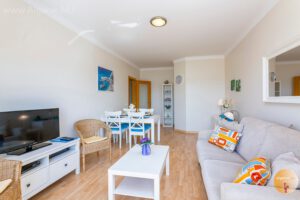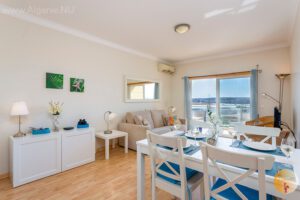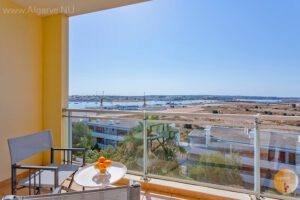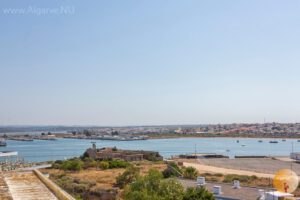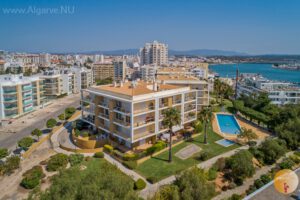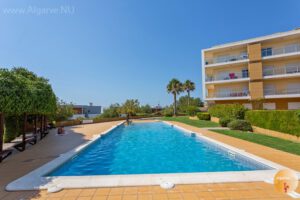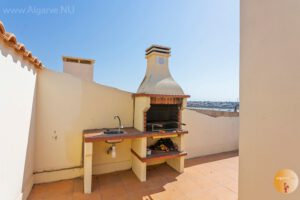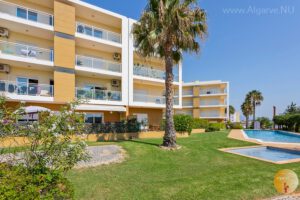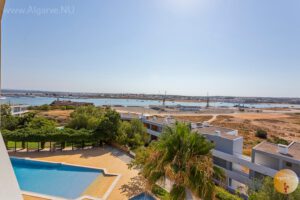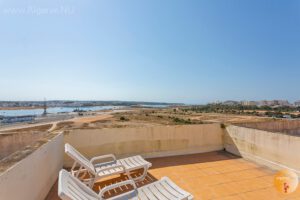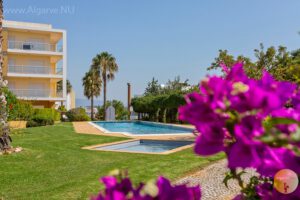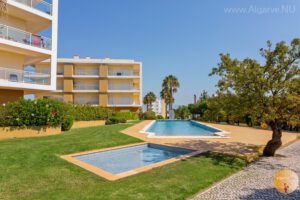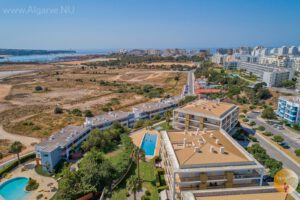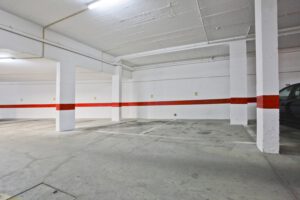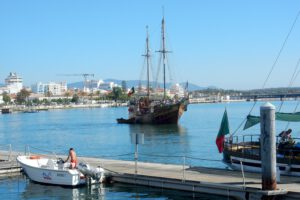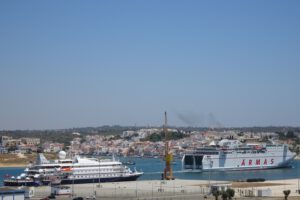 Algarve Apartment with swimming pool.
And in the easily accessible well-maintained garden you have access to a large illuminated swimming pool. With a separate child's pool with an outdoor shower. The elevator takes you up from the garage with your own parking space. Right to the front door of the apartment on the third floor. This makes the apartment wheelchair-rollator friendly because there are no barriers and all is threshold-free. There is also free parking on the well-secured premises at the complex.
To your Portimao apartment from Faro International Airport
The Algarve Apartment Vila Arade – Portimao is only a 45-minute drive away from Faro airport. And, all facilities are within walking distance of your apartment. And if you encounter a practical problem then you have your own hostess during your stay. Joké (you may already be familiar with her from Kras Travels) is easily accessible. She is very experienced and can help you with all your questions. Algarve Apartment Vila Arade – Portimao, near marinas and beaches.
View the Vila Arade video

Vila Arade has also its own website, please check out apartmentinportugal.org

Rental cars at good prices can be obtained at Faro Airport Car Rental with pick-up and return at the Faro airport.
---
4.8 out of 5 stars (based on 12 reviews)
Would you like to write your own review for Vila Arade? Please click here.
---
Fantastischer Urlaub in Algarve
Ein wunderschöner Urlaub. Suchen Sie nicht nach einem exklusiven 5 Sterne Hotel mit schöner Aussicht.
Komm her, es viel besser. Schöne und geräumige Wohnung. In der Wohnung ist buchstäblich alles vorhanden.
Sogar ein Grill auf dem Dach, der phänomenal funktionierte. Super saubere und gepflegte Apartment.
Extra Ausblick aus der 3 Etage. Toller großer Pool und kleiner für Kinder.
Wir hatten das Glück, den Besitzer Herrn Frits kennenzulernen. Er war zu diesem Zeitpunkt in Portugal.
Ein großartiger Mann, sehr hilfsbereit, vielen lieben Dank.
Die Algarve ist wunderschön, das Essen ist köstlich, der ausgezeichnete Verde Wein kannten wir vorher nicht und dafür ist Portugal berühmt (und natürlich nicht nur dafür). Etwa 2 und halb Stunden Fahrt nach Lissabon. Es lohnt sich wirklich, diese Stadt zu sehen. Lissabon ist wunderschön und sehr vielfältig. Wir haben 3 Tage dort verbracht, aber wir haben viel besucht.
Dank Frau Joke ist es uns gelungen, am kulinarischen Festival in Portimao teilzunehmen.
Wir konnten die besten Köche Portugals treffen und ihre Gerichte probieren.
Es war unser erster Urlaub in Portugal, in jeder Hinsicht wunderbar. Wir planen bereits das nächste.
Wir bedanken uns bei Herrn Frits, bei Frau Joke, die äußerst herzlich und auch sehr hilfsbereit ist,
und bei Frau Daniela, die die Wohnung gereinigt hat.
Dieser Urlaub hätte nicht besser sein können.
Response from Algarve.nu
Was für eine tolle positive Bewertung!!! Sehr schön, dass Sie dort waren und unsere Wohnung genießen konnten. Unsere Einführung war kurz und sehr früh am Morgen :). Ich hoffe, Sie werden wiederkommen. Schön und danke, dass Sie die Vila Arade gebucht haben.
Superbe appartement, belle vue.
Très complet, prix compétitif et excellent service de l'hôtesse et de la bonne. L'emplacement central et le parking gratuit ont également été des aspects importants pour nous de choisir cet appartement. Nou espérons bien y retourner.
Response from Algarve.nu
Merci beaucoup pour l'avis 5*. Cela nous fait du bien lorsque les clients sont satisfaits.
Comfortable Vila Arade
My wife and I booked Vila Arade for a month. We had a very enjoyable stay and the apartment met all of our needs. We found the location to be very quiet and relaxing, with a great view of the river mouth. It is a short walk to the river front, or to Praia da Rocha beach, making for a convenient place to stay.
Between Frits, Johanna and Daniela they formed a very professional team that responded in a timely manner to our questions, ensuring that we had a comfortable and relaxing stay.
We highly recommend this as a place to stay, and we look forward to a return visit!
Response from Algarve.nu
Thanks Ted and Grettel. A wonderful review, making us all proud to be of service. Please book again!
Fijn appartement centraal gelegen in Portimao
Fijn ruim appartement, netjes onderhouden.
Uitzicht op de Arade en een stukje zee.
Centraal gelegen in Portimao, je kan lopend naar de zee en ook naar het centrum.
Wordt netjes schoon gehouden.
Gezellige hostess die heel veel kan vertellen over de omgeving.
Response from Algarve.nu
Fijn dat jullie het goed naar de zin gehad hebben. Graag tot een volgende keer!
Super apartment with an amazing view!
My wife and I spend 9 days in this apartment and we simply loved it. The apartment is clean, very light, modern and located kind of perfect. It is quiet but at the same time you are 2 minutes from the city life/boulevard etc. The walks to the beach are very nice as well. We relaxed en enjoyed the place really a lot!! The view has many different flavors; the river, beaches and the Ocean. The lady who takes care and clean was very available and friendly. We hope to come back.
Response from Algarve.nu
Thank you so much for your excellent review! It makes us feel proud! Please tell your friends as well. THANKS!
---
Ask for the special prices that apply for overwintering / long winter stays. Pets are welcome!